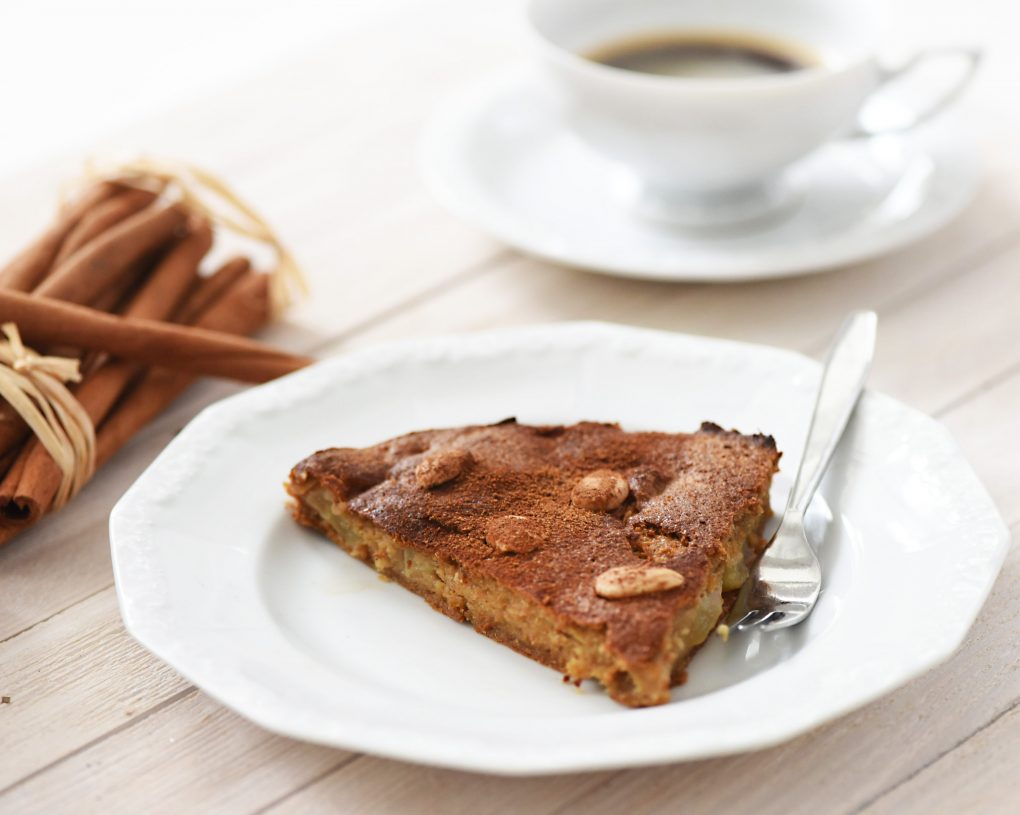 Christmas cake with apple, pear and with gingerbread spices.
Not only simple as we like, but also very good!
Christmas recipes often cause us to be horrified "Whole day in the kitchen", "Difficult recipes, too difficult" "I do not have time to cook during the holidays" etc.
Do you know what i mean?
I present to you a cake, which will work for everyone 🙂
It's best to eat it when its warm 🙂
Ingredients for 2-3 people
300 g of pear (2 medium pears)

100 g of banana (1 medium banana)

1 apple (any size)

120 g of oatmeal (I used gluten-free)

50 g of coconut sugar

30 g of coconut oil

1 tablespoon of spices (ginger, cardamom, nutmeg, cinnamon, cloves)

for sprinkling: cinnamon and coconut sugar

a few almonds
Preparation:
Pre heat the oven up to 180 degrees.
Place a peeled banana and a pear into the kitchen mixer, blend everything. Then add flour, egg, coconut oil, coconut sugar and spices. Mix everything.
Dice the apple into medium pieces and put it in the dough, mixed it. Put the dough into the mold (26-28 cm) oiled  with coconut oil. Place almonds on top, sprinkle with cinnamon and coconut sugar.
I was baking it for 50 minutes (it is best to check the middle of the cake with a wooden stick).