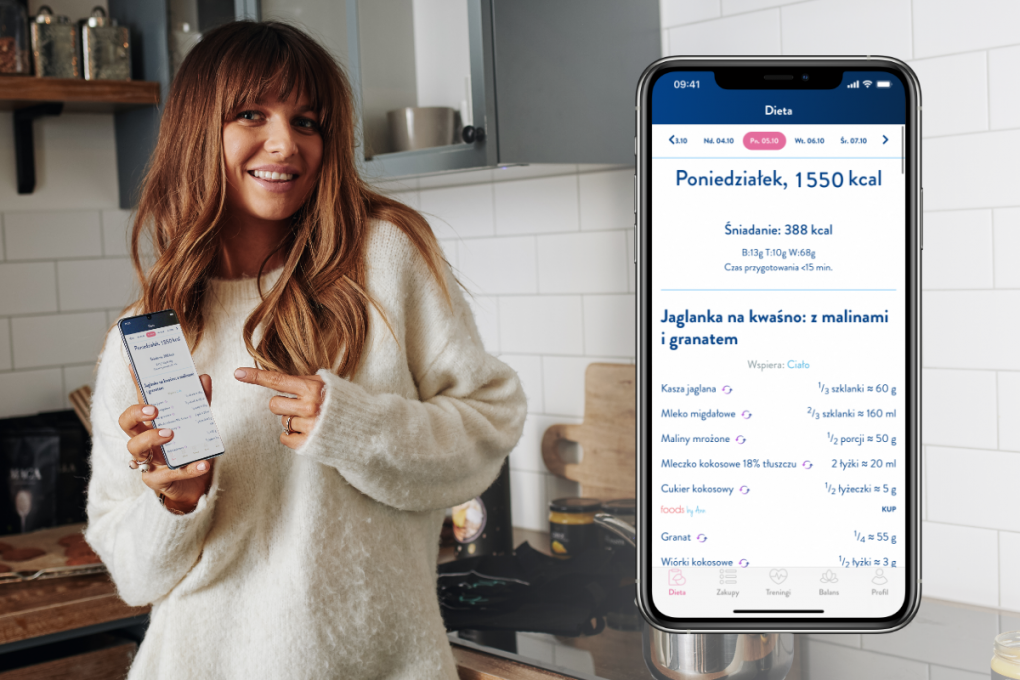 A 1-day sample diet with Diet & Training by Ann
Are you ready to begin a tasty adventure with my nutrition philosophy?
Healthy diet can be easy and fun.
Remember that the most important is to feel good in your own body, thanks to healthy habits and not "miracle diets"!
We are all different – different body shapes, hormonal balance, genetics or gut flora. Not all of us must weigh 50kg to feel confident & healthy. Our well-being is the thing that should come first. Thanks to this diet we can influence it in numerous ways.
First of all –
EFFECTS.
You begin a new diet – no matter whether it's a reduction/elimination diet, or a rotational one, or you just want to change your eating habits for the better – set yourself one main goal and several smaller, short-term ones. THAT'S MY RECIPE FOR SUCCESS! Achieving those smaller goals will strongly motivate You to work harder. Self-satisfaction is the basis for good mood, and improving your looks will also boost positive emotions. You can also feel better by providing your body with the right nutrients in the food you consume.
In our body we can differentiate between 3 zones or the Power Triangle, body, mind, libido (more HERE), which you know very well from my previous posts. Harmony between these zones guarantees a better mood  and health improvement.
Each of these areas is influenced by different nutrients. Thanks to the knowledge we have about these ingredients we can influence particular aspects with our diet. I know that for a person who is just beginning their adventure with healthy nutrition it is not so easy and they may have some doubts or questions:
Which products will improve my fitness and efficiency?

How to choose products if I want to improve concentration?

What to eat to improve sexual performance?
The answer: 
Diet & Training by Ann.
You can try a 7-day free access. Download Diet & Training by Ann from the App Store or Google Play.
What makes it different from others is the fact that you decide what your diet should look like.
You choose your own goal from the options below:
I want to reduce body weight

I want to maintain my body weight.

I want to put on weight

I want to build muscles
Before personalising the diet, you set your target weight.
You decide which of the areas you want to focus on in particular:
body – because you care about efficiency and improvement of physical fitness
mind – because you have problems with memory and concentration
libido – because you want to give your sexual life a boost
If you change your mind, don't worry – you can change the settings infinite number of times while your subscription is active.
Get a Good Start!
Today I would like to show you a sample recipe for 1800 kcal – Good start
I will show you how the ingredients in this set affect your BODY.
Menu by Ann
Breakfast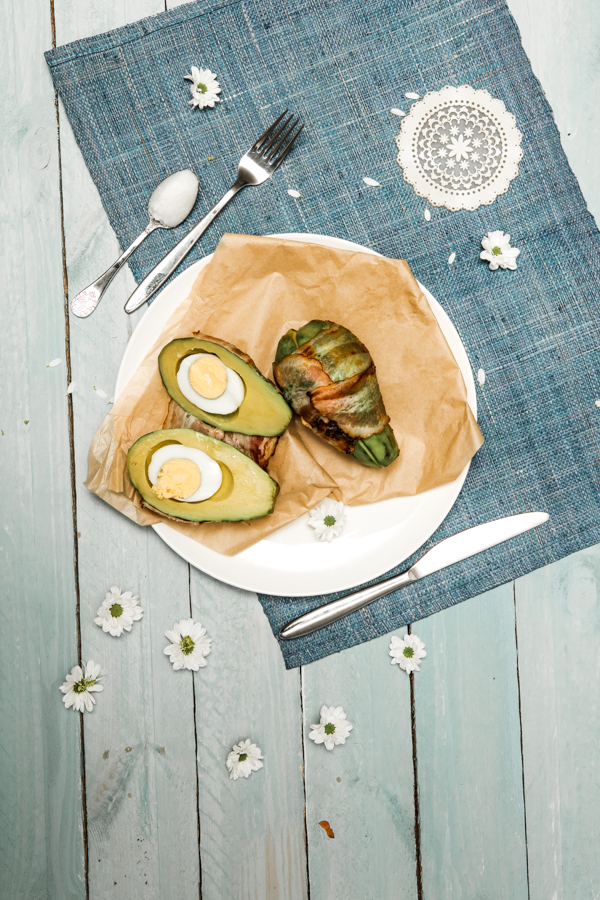 Egg in avocado rolled in bacon
This recipe is an interesting idea for a fat and protein breakfast. It is the best option for people who care about their body shape and are trying to improve their fitness because it does not result in rapid increase of blood sugar and makes them feel full longer. An egg is considered to be a product of high nutritional value, mainly thanks to the wholesome protein it contains. Egg white – and I mean the nutrient here – is used as a model in scientific research which aims at evaluating the amount of protein in other products. One egg gives us 6g of protein with the complete amino acid composition. Moreover, eggs are rich in healthy fats, especially unsaturated fatty acid: oleic acid and linolenic acid. An important component is lecithin which benefits our lipid balance and improves the ratio of HDL cholesterol to LDL.
Ingredients:
1 avocado, 140g

1 egg, 50 g

2 rashers pork, bacon, 20g

½ teaspoon clarified butter, 3,75g

pinch of black pepper

pinch of himalayan salt
Preparation:
Boil the egg and then soak it in cold water.

In the meantime, peel the avocado, halve it and destone it to make room for the egg.

Peel the egg and place it in the avocado.

Join both halves and roll a rasher of bacon around the avocado.

Melt butter in a pan and fry avocado on medium heat with the lid on.

After two minutes roll the avocado on the other side.
Water with lemon and apple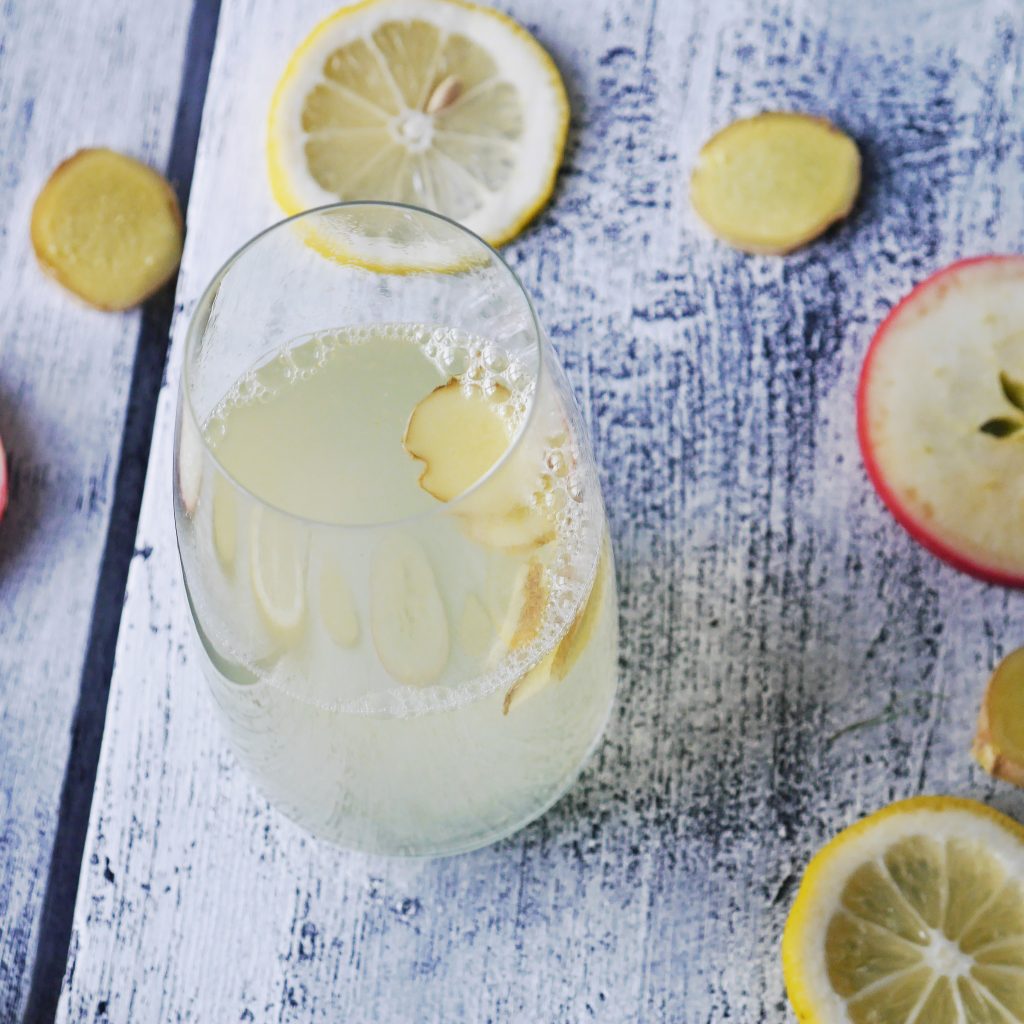 Ingredients:
mineral water – 1 cup, 240ml

an apple – 7 slices, 50 g

2 slices of lemon – 5 g

2 slices of ginger – 5 g
Preparation:
Wash the apple, lemon and ginger and slice them.

Pour mineral water into a jug, add the slices of apple, lemon and ginger.

You can add some ice cubes.
Snack I
Porridge with plums and crumble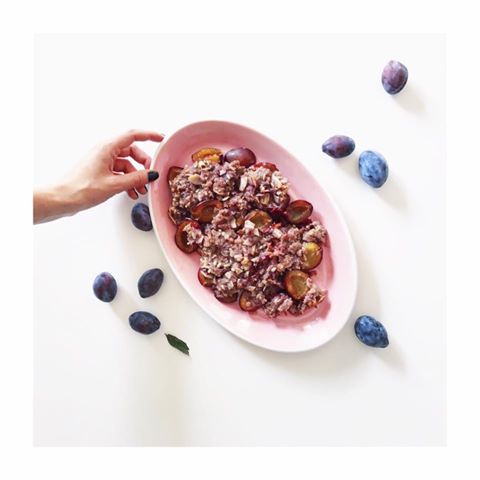 Ingredients:
5 tablespoons rolled oats

2 plums

1 tablespoon oat flour

pinch of ground cinnamon

1 tablespoon coconut oil

1 tablespoon coconut sugar
 Preparations:
Soak rolled oats in boiling water and leave for 15 minutes.

Stir oats with cinnamon and transfer to a mold.

Place quartered plums on the oats.

Make crumble from the flour, oil and sugar.

Sprinkle the plums with the crumble and put the porridge into the oven. Bake at 180°C for about 15 minutes, until it becomes slightly golden brown.
Lunch
Light steamed meat cabbage rolls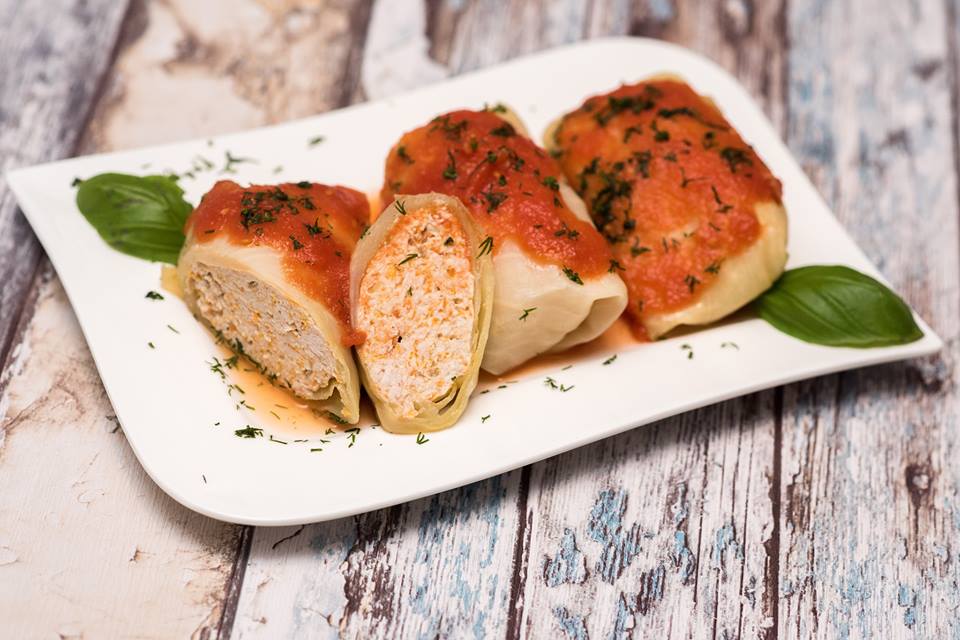 Turkey meat contains up to 20% of wholesome protein which is especially important for people who are physically active. It is a nutrient that guarantees the feeling of fullness will last longer. Turkey breast is a product that should be used by those who want to reduce body fat, as well as those who want to build muscles. This meat is high in zinc which positively affects the condition of our skin and hair.
Ingredients:
white cabbage – 2 leaves, 110 g

turkey breast, skinned – 150 g

2 tomatoes, 160 g

½ carrot, 22,5 g

1 egg white, 35g

¼ onion, 27,5g

garlic – ½ clove, 2,5g

dill – 2 teaspoons 8g

himalayan salt – a pinch

black pepper – a pinch
Preparation:
Wash the cabbage thoroughly, dry, and cut out the hard parts.

Put the leaves into a steamer or a pot for steaming and cook with the lid on for about 5-7 minutes.

In the meantime, wash and mince the meat.

Add pressed garlic, chopped onion, grated carrot, the egg and spices, and mix.

Place some of the meat stuffing on every leaf and roll very precisely.

Steam for about 30 minutes.

Heat up the tomatoes in a small pot, add salt, pepper and finely chopped garlic and stew. Add some dill at the end.

When ready, serve the rolls with the sauce.
Parsley rice
Ingredients:
basmati rice – 5 tablespoons, 75g

parsley (leaves) – 3 teaspoons, 18g

himalayan salt – a pinch

black pepper – a pinch
Preparation:
Rinse the rice 1-2 times in cold running water before cooking.

Cook according to the recipe on the packaging.

Chop parsley.

Mix rice with parsley and spices.
Steamed kohlrabi
Ingredients:
1 kohlrabi, 165g

1 tablespoon lemon juice, 6ml
Preparation:
Steam the kohlrabi and sprinkle with lemon juice.
Green leaf tea – 1 cup, 240ml
Snack II
Date cookies
Składniki :
Dried, unsulfured dates – a handful, 45 g

Gluten free rolled oats – ½ a cup, 55g

Cashew nuts – a handful, 35g

Desiccated coconut – 4 tablespoons, 24 g

Coconut oil extra virgin, 2 teaspoons, 30 g

Spices: ground cinnamon ¾ teaspoon, 3g
Preparation:
Soak dates in boiling water and leave for 10 minutes.

Blend the oats and nuts.

Add the other ingredients and blend until smooth.

Line the baking tin with parchment paper, scoop the paste and form cookies on the tin.

Bake at 180°C for about 10-15 mintues
Dinner
Vegetable burger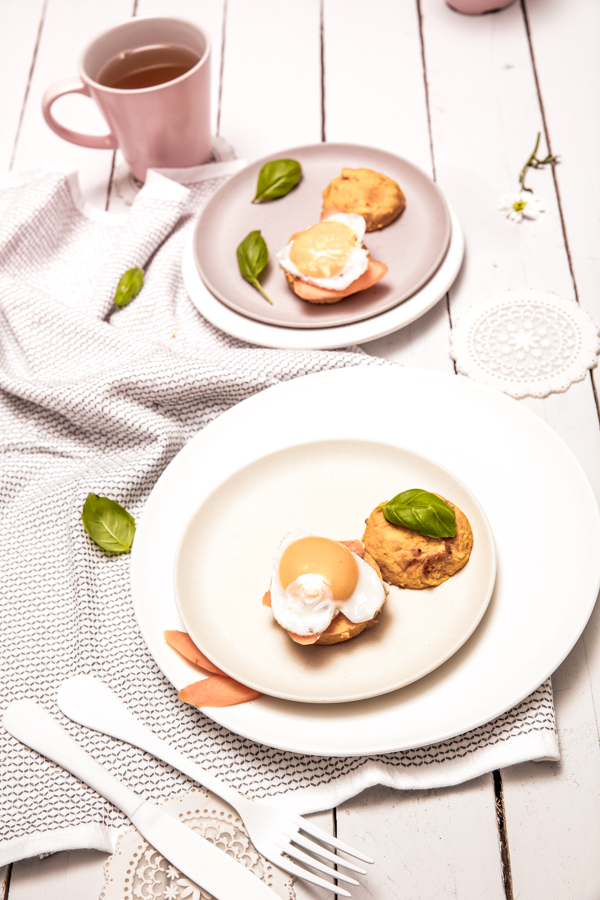 Ingredients:
3 carrots, 135g

4 tablespoons white buckwheat groats, 52g

½  slice, 5g

1 egg, 50g

½ teaspoon, 7,5g

pinch of turmeric

2 basil leaves

pinch of himalayan salt

pinch of black pepper
Preparation:
Rinse the groats 1-2 times in cold running water before cooking.

Cook the groats as written on the packaging.

Cook the carrots in a separate pot.

Blend the groats with carrots, grated ginger, spices and the egg.

Form balls from the paste.

Heat the oven to 180⁰C, place burgers into muffin moulds and bake for about 25 minutes.

Leave in the oven for a while.
Mineral water – 1 cup, 240 ml
Combine diet with a balanced training with Diet & Training by Ann available on the App Store and Google Play with 7-day free access!