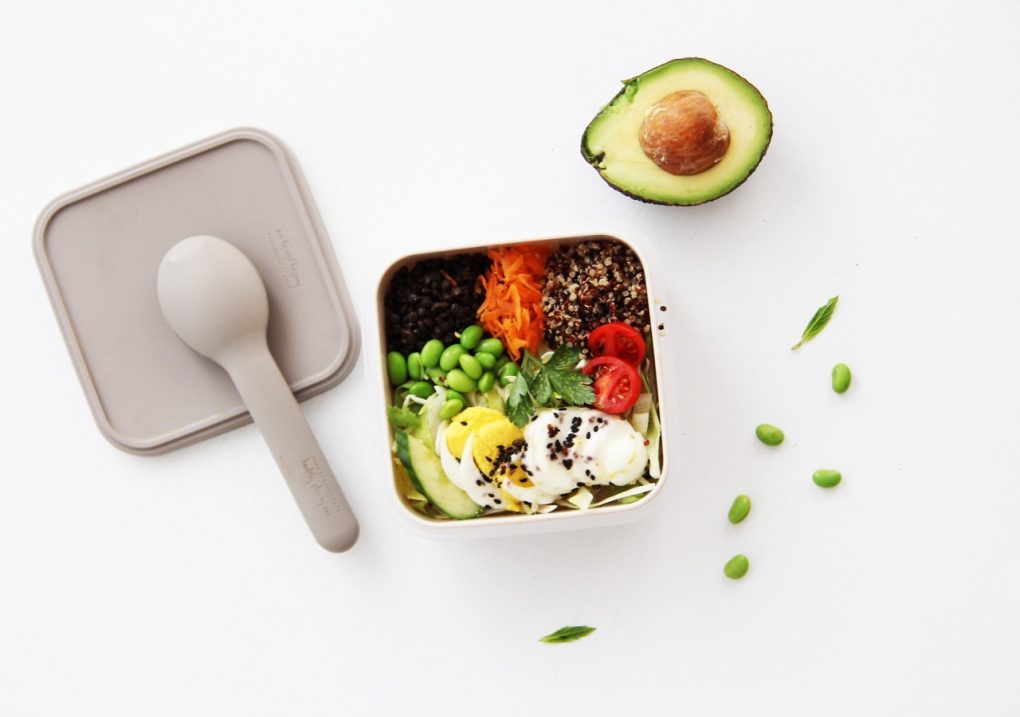 School, studies, work and your lunchbox
September, beginning of school! And as for me – im angry.
I was so happy when by the Regulation of the Minister of Health school stores and canteens were obliged to serve proper nutrition snacks for children. Maybe it was too restrictive to begin with,or maybe the new menu wasn't too practical, maybe there wasn't enough lectures and training, but I had hope that all this would eventually normalized. But unfortunately whats ''new'' usually meets with criticism. Meanwhile, when questions were  raised and we heard  the first voices of discontent , the minister of education buckled and proudly announced that sweet buns which  students asked for will return to  schools. Well folks! How we are building healthy society if it is ruled by our love for pastries? What kind of example are we giving to young people?
Dear Parents, you are our hope – active, responsible and aware of interesting knowledge about health. Childhood is all about learning about the world and science. We know well how many habits which are not always a good ones, we have ingrained from an early age. Let today's kids catch parents healthy habits. The little man has a natural need for movement. Just cultivate it so it will last forever – you need to take care of physical activity of your child , not just intellectual one.
The little man is curious about the world of colors, tastes and smells – you can invite him to the kitchen to prepare mouth-watering dishes, including those for tomorrow's lunch box!
I have asked mothers, including those with many children. And they agree that everything is a matter of willingness and good organization – its possible!
What should we prepare for  school lunchboxes? I would try to avoid immortal canapés with white bread and ham. A friend of mine who works as school janitor told me what a huge amount of these goods she sees every day in a school trash bins. The truth is that white bread is making us feel tired instead of giving us the energy we need.
So what in exchange? If the young people  likes salads, there are hundreds of recipes, they can be created with favorite ingredients, sometimes smuggling something less beloved. The salads are colorful, can have different dressings, and can be complemented by a good protein (eggs or, for example.roasted poultry) and by adding it they are becoming fat are energy meal.
you can see my suggestion for today on the picture above.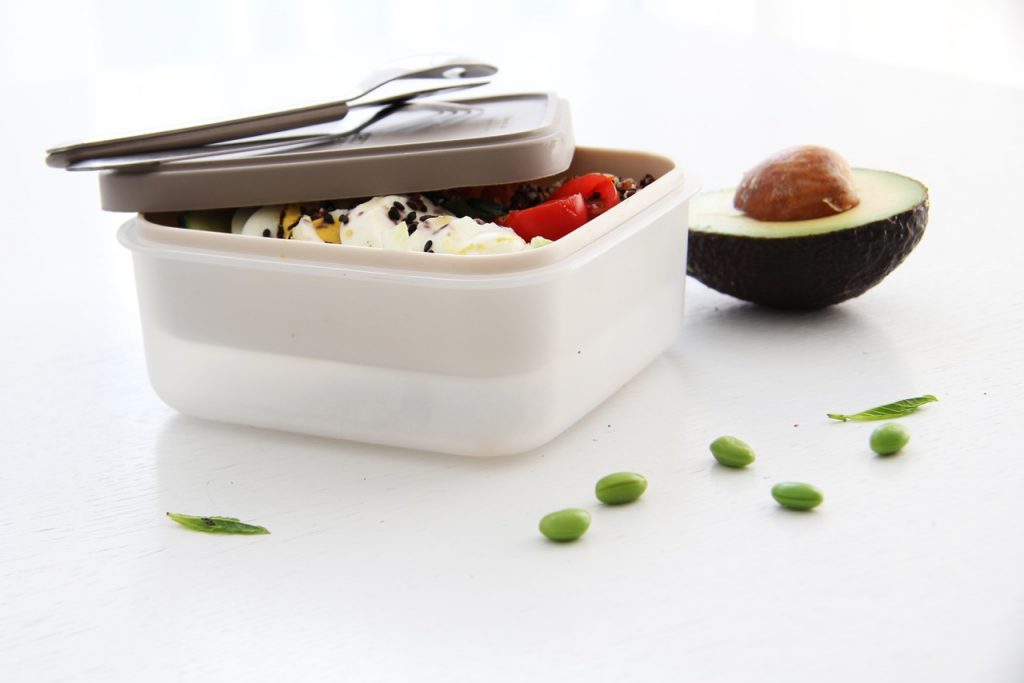 Ingredients:
1 grated carrot
50 g of cooked quinoa
4-5 tablespoons of cooked lentils
young green peas
green soybeans
cooked egg
green lettuce leaves
tomato
olive oil
Place all the ingredients into a lunchbox and sprinkle it with olive oil.
Kids I know, love the muffins and cupcakes – the savory, the one with vegetables, and the sweet ones, but of course, home made. Also, many healthy tortillas can be eaten cold and with the addition of fresh fruits, it can be a delicious lunch!
Im sure that my readers  are preparing heathy food for their kids!
So I have a  request for the youngest audience of my blog – share your appetite for healthy life style with others ! Be an inspiration for your buddies and friends. Together we can do more :).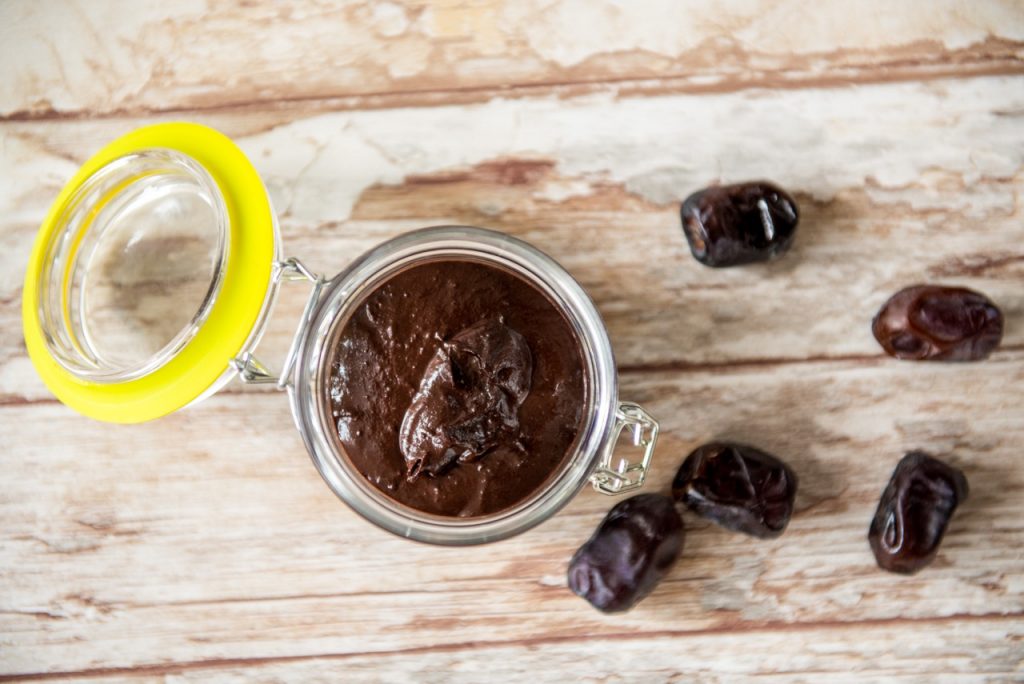 Homemade Nutella
Ingredients:
8 dates
150 ml of rice milk
1/2 of  dark chocolate (or 3 spoons of cocoa powder)
 lemon juice ( from half of lemon)
 pinch of chilli pepper
Cook the dates with milk, melt the chocolate (you can replace it with cocoa powder) and mix it all together.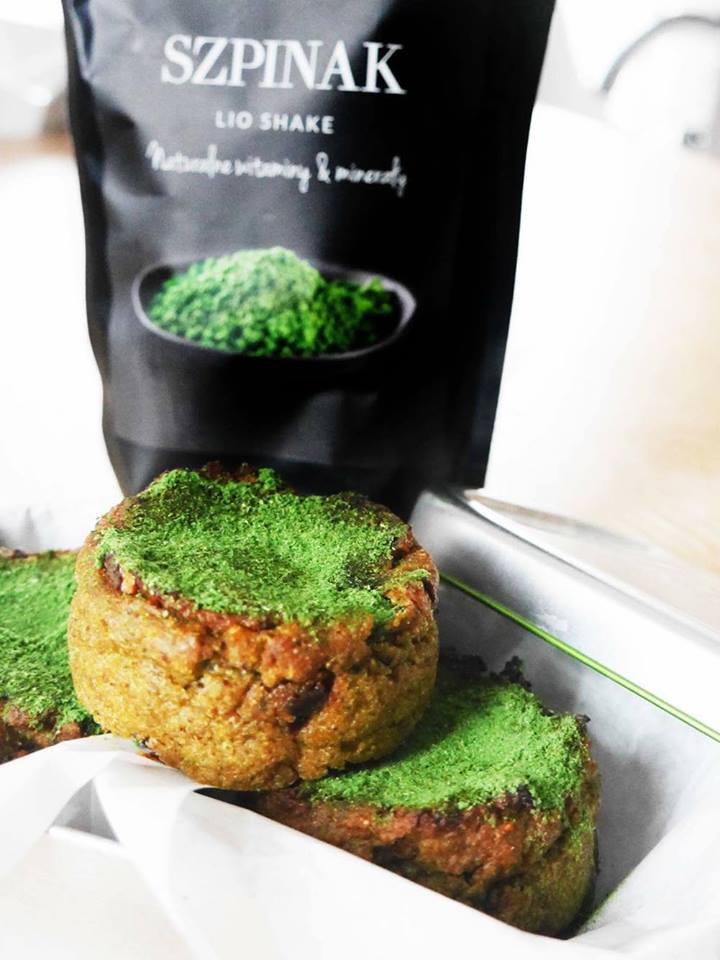 Semi sweet muffins with spinach
Ingredients:
( 6- 8 pieces)
60 g of rice flour
60 g of coconut flakes
100 g of potato or corn flour
4 tablespoon of spinach Lio Shake or 100 g of fresh spinach
3 tablespoons of coconut oil 
100 ml of coconut or rice milk  (other plant milk can be used)
2 egs
6 teaspoons of coconut sugar
4 dates
1 teaspoon of gluten free flour
pinch of sea salt
cinnamon
cardamon
Preparation:
Soak dates in hot water for about 20 minutes. Mix it with all the ingredients. Place the batter  in the muffins baking tray, preheat the oven to 180 degrees and bake it for around 25 minutes. When ready, sprinkle with  1 teaspoon of spinach Lio Shake.
Feel inspired by  recipes from my blog! Muffins, pancakes,  power balls, power bars, and salads! 🙂
Additional inspirations: