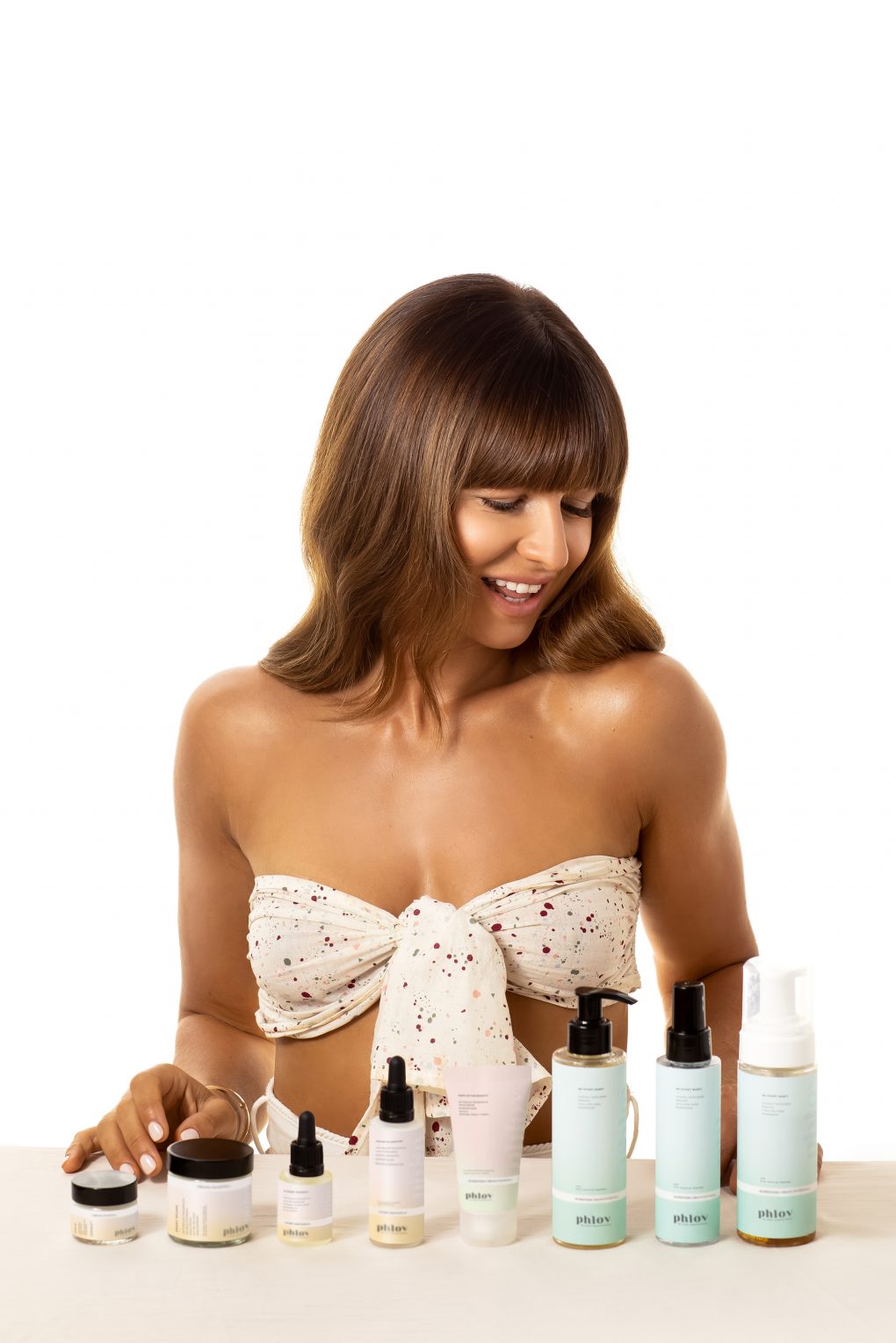 Have you been wondering how to use PHLOV in your daily natural skin care? You don't know where to start and what cosmetics will be best for your skin? I am here to help! And I hope that my tips will help you make the right choice!
How to start? Well, let's start from the beginning, which means adjusting the type of care to the time of day, and thus the changing needs of your skin.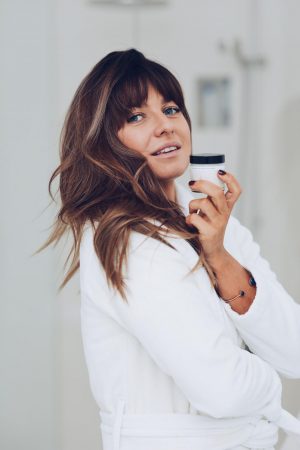 Morning Care 
The aim is to prepare your skin for the challenges ahead. After waking up start with proper cleansing and toning, then nourish and moisturize your skin!
Step 1. Cleansing
It is all about cleansing the skin of the residue from cosmetics applied the night before and getting rid of excess sebum. Thanks to this, it will be refreshed and full of energy! Remember that cleansing should not only be effective, but also gentle! It is important that the cosmetic does not dry the epidermis too much, as it may cause an unpleasant feeling of tightening of the skin. If you are looking for gentle and effective cleansing on many levels, then be sure to try the thick Facial Cleansing Gel with CLEAN'EM ALL microfoam technology or ABSOLUTE PURE(NESS) Synbiotic Cleansing Foam (which is already available in SEPHORA perfumeries and at PHLOV).
Step 2. Toning
This step helps restore the skin's balance and its natural (slightly acidic) pH, and also prepares it for further stages of skin care. Toning also enables better absorption of nutrients from the serum or cream. The PHLOV Vitalizing MINERAL SHOT toning mist with multidimensional action is perfect here. Bioactive grapefruit water and a moisturizing complex of glucose and xylitol perfectly refresh and tone your complexion. What's more, the innovative bioferment of five minerals effectively replenishes their deficiencies in the skin, and the addition of vegetable taurine provides cells with a boost of oxygenation and natural energy.
Step 3. Nourishment
Properly cleansed and toned skin is ready for further treatment! As a third step, I recommend the FLOWER YOURSELF rejuvenating flower serum. It has a light formula of dry oil, and additionally contains an extract from microalgae, which protects the skin against the negative effects of smog, stress and pollution. It is important because they are responsible for the inflammaging process, i.e. accelerated skin aging caused by environmental factors. This extract also has a strong antioxidant effect and protects the skin against free radicals.
Step 4. Moisturising and Protection
Now the time has come for the grand finale, which will take care of proper hydration of your skin during the day. The Ultra-moisturizing SMART SPLASH adaptogen cream will be great at this stage! When applied in the morning, it provides the skin with a dose of adaptogens and strengthens its natural protective barrier. It is a wonderful boost of energy which also slows down the aging process and restores vitality and natural glow. The Energinius® raw material contained in the cream additionally protects the skin against the blue light emitted by the screens of smartphones and computers. SMART SPLASH! is also perfect as a make-up foundation.
Don't forget the eye area during your daily natural care! Its delicate structure requires a proper approach. Therefore, in order to take care of its condition, put on the EYE-DEAL LOOK Peptide Cream, which cares for the skin both under the eyes and on the eyelids. The addition of caffeine and vegetable taurine will make you look well-rested. EYE-DEAL LOOK cream is also an ideal base for concealer.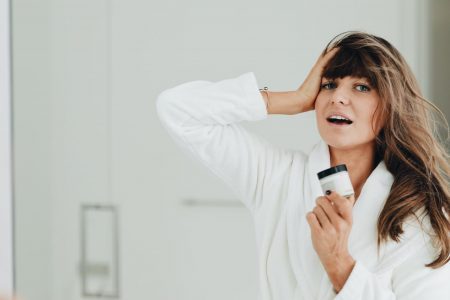 Evening Skin Care
After an eventful day, your skin needs proper care which it deserves! After all, during the day it had to deal with a number of adverse external factors such as smog, pollution and stress. Everyday makeup doesn't make things easier.
What makes evening natural care stand out is its intensity. It is designed for the skin to use the night time for maximum multilevel regeneration and rest. 
Go ahead and visit the PHLOV profile on Instagram, where Instastory with my evening skincare routine done step by step is waiting for you!
Step 1. Cleansing 
Do you know the feeling when you can finally take a shower and change into your favorite tracksuit in the evening? Your skin also needs this moment of relief and must wash away the hardships of the whole day. Face Cleansing Gel CLEAN'EM ALL with micro foam technology will help you achieve it. You will not only provide your skin with a deep refreshment, but also gently remove makeup and other impurities.
Step 2. Exfoliating 
After cleansing, I highly recommend the OVERNIGHT BEAUTY TRICK micro-exfoliating night essence, which gently and gradually smoothes the skin. Enriched with organic AHA acids, it stimulates and accelerates the renewal of skin cells. KombuchkaTM (i.e. ferment from sweet black tea) is a raw material which smoothes and visibly improves skin tone, and keeps it firm. It is all possible thanks to the previously mentioned lipofilling technology.
In addition, it is a good idea to exfoliate your skin 2-3 times a week  with a peel that matches its needs. The 10-minute SKIN EXPOSED exfoliating therapy will stimulate skin cell renewal, smooth it and make it more elastic. It is possible thanks to acids and exfoliating particles. Its great advantage is that it can be used for all skin types. It all depends on how the cosmetic is applied and how long it is left on the skin. Detailed instructions for use can be found on the packaging and on PHLOV.
Careful! Remember to protect your skin from UV rays during the day after using cosmetics with acids!
Step 3. Nourishment
After cleansing and exfoliation, it's time for a solid portion of nutrition! You will find them in the VERY SUPERBERRY biorevitalizing concentrate. It is a dry oil in a concentrated formula that nourishes the skin and is lightweight! Organic superfruit concentrate from acerola, sea buckthorn, cranberry, guarana and camu camu is a striking dose of energy that helps the complexion fight against signs of fatigue. What's more, vitamin C is crucial for night skin regeneration. Its easily absorbed formula penetrates deep into the skin, slows down the aging process, brightens discolorations, and strengthens and revitalizes your complexion!
The VERY SUPERBERRY concentrate can be used interchangeably with the MOOD'FLUENCER rejuvenating liposomal booster, which you already know from the morning care ritual. I assure you that its superingredients will also work well at the end of the day. Among other things, they help to calm redness and hyperactivity of the skin, restore balance to its microbiome and improve your mood after an eventful day!
While looking after your face, don't forget to care for your neck and cleavage! The PUMP UP THE BEAUTY instant beauty mask will help you do just that! It contains turmeric oil with a high content of pure curcumin, which effectively nourishes, improves color and brightens. The extract from the nectar of the Australian Kangaroo Peacock flower rejuvenates the skin structure, has a strong anti-wrinkle and lifting effect. For best results, apply the mask 2-3 times a week.
Step 4. Moisturising and Protection
As in the case of morning care, the evening routine must also include proper hydration. Here again, the SMART SPLASH Ultra-moisturizing adaptogenic cream will be great. The innovative water-drop formula releases a wave of water micro-particles when it comes into contact with skin, giving a wonderful refreshment effect. When you sleep, the complex of plant adaptogens will support your skin's defenses and adaptability, and the hyaluronic acid complex will provide multilevel hydration.
When you look after your complexion, don't forget about evening care of the delicate eye area! The EYE-DEAL LOOK cream will be perfect both in the morning and in the evening!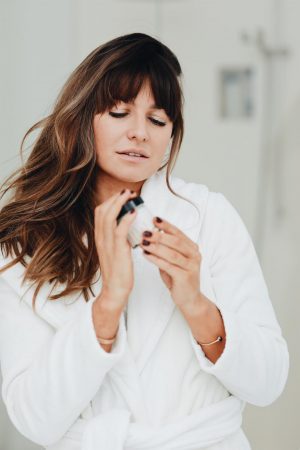 A beauty routine that cares not only for the skin
Remember that the evening and morning beauty routines are not just about the skin. I strongly encourage you to treat them as a moment of relaxation for … the spirit! Make sure that these moments are reserved exclusively for you. They don't have to be long hours. Even a few minutes will help you prepare for a challenging day, or vice versa – unwind after a busy day. Turn on your favorite music, enjoy the beautiful scent and amazing effects of PHLOV cosmetics and catch your moment!