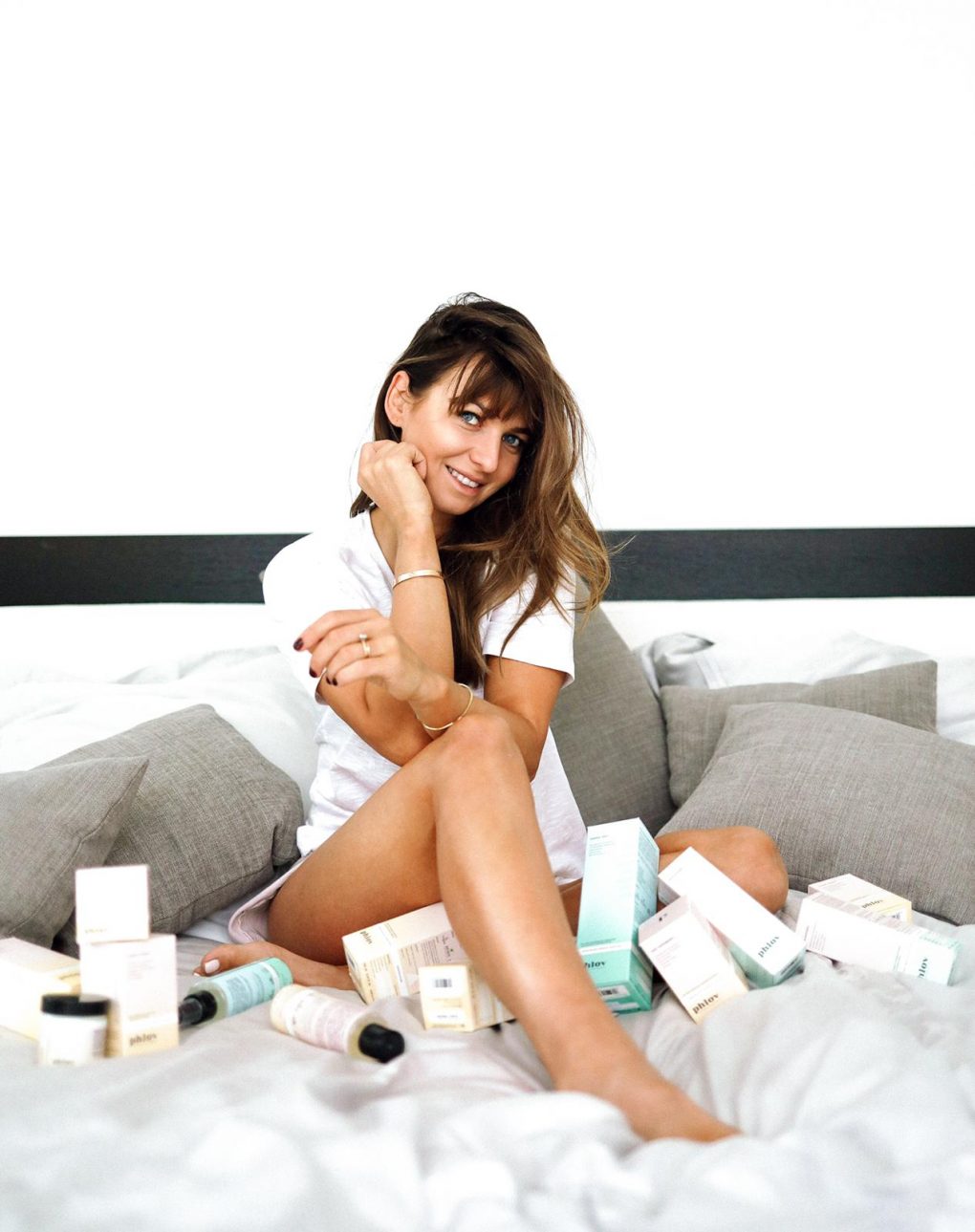 Catch Your Moment, Feel the Phlov
Today I want to encourage you to take care of your own needs and well-being. Try to find a peaceful moment just for yourself in the everyday rush. I want to support you in that. That's why I have created Phlov – a brand of vegan, innovative and natural cosmetics which strives to satisfy your everyday needs.
Why natural cosmetics?
How did I come up with the idea of creating a brand of natural cosmetics? If you try to keep track of what I do, then you certainly know that it's my priority to support you in the process of leading a healthier, more active and happier life. For me, natural and multipurpose cosmetics are another step on this path. 
What's more, I have always loved to invent and create my own masks, scrubs and hair conditioners from natural ingredients. Unfortunately, my pace of life  (and I'm surely not the only one ;)) means that I often don't have the time to do it. As you know I am really open to your suggestions. Thousands of messages from you on my Instagram account as well as conversations with the women around me are a never-ending source of inspiration. It's crucial for me to create products that meet your needs and expectations. And that's exactly why I've created products that take the best from nature and provide fast, effective and multi-dimensional care. What's important, Phlov products are vegan, cruelty-free and come in recyclable packaging.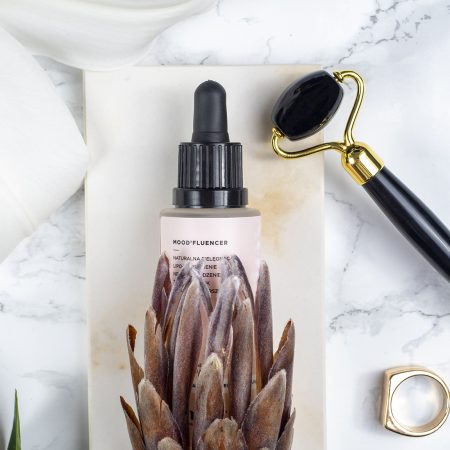 How Phlov was created
It took three years for the Phlov brand to come into being and its products were created from scratch following specific rules. During this whole process I needed specialists who could support me with their knowledge and experience. Together with my implementation team we search for the best ingredients, test their specific features and decide whether we want to include them in our recipes. I am very happy that while working on our products I can use my knowledge about superfoods, bioferments, adaptogens as well as plant and fruit extracts.
I wanted Phlov to bring you joy every day during your beauty ritual. Hence the name, which perfectly reflects what is most important in our brand. It refers to a state called flow in positive psychology. This is the moment when you engage in the activity so much that you are filled with positive emotions only.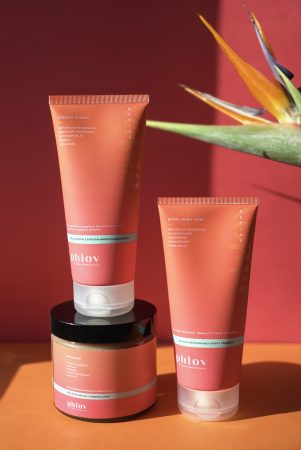 Innovative research and ingredients
At Phlov, we focus on innovation and follow global trends. That is why, while developing our products, we were inspired by the discovery of the BRAIN-SKIN connection, i.e. the communication channel between the brain and the skin. It turns out that these two organs are much more connected than we thought. First of all – the origin! The skin and nervous system are derived from the same germ layer – the ectoderm! This connection makes your emotions and skin condition interact. You don't believe it? Try to remember, then, how your skin reacts e.g. to stress and nervousness.
What is psychodermatology?
The desire to discover and examine the relationship between skin condition and emotions has contributed to the emergence of a new field of science – psychodermatology. It combines dermatology, psychology, aesthetic medicine, and cosmetology. Pioneers of this discipline include clinical psychologist dr Ted Grossbart, who developed his own special program to support the treatment of skin diseases [1]. The BRAIN-SKIN connection is also promoted by the neurologist Dr Claudia Aguirre, who  has explained the essence of the BRAIN-SKIN connection and has referred to it in numerous works and speeches [2].
The BRAIN-SKIN connection (also called the cerebral-cutaneous axis) is also part of the natural protective shield of the skin, thanks to which it can cope with the negative influence of external factors. Scientists have found that the biggest threat to its proper functioning is stress. This concept covers everything that disturbs the body's balance and forces it to go into battle mode. It's about stressful situations in everyday life, bur also factors that stress our skin, like smog, pollution and the blue light from screens. 
Unfortunately, both stress and stressors affect skin's defensive functions and also accelerate the aging process. This was confirmed by a study carried out by a team of plastic surgeons at the Twinsburg Twin Festival in 2006 and 2007. A team of doctors from the Texas A&M Health Science Center College of Medicine analyzed photos of the 186 pairs of identical twins who attended this festival. Scientists tried to determine the age of each of the twins based on facial features. It turned out that people who had a stressful experience or were more exposed to UV radiation and smog due to their place of residence, looked older than their brother or sister, leading a more stress-free life and living in a cleaner environment. One of the authors of the study mentioned stress as one of the features those older-looking twins had in common [3].
One of the main culprits for such a strong impact of stress on the skin condition is cortisol (the main stress hormone), which breaks down and inhibits the synthesis of collagen and other proteins, which are the basic building material of the skin. This hormone has anti-inflammatory effect, but when its action is long-term, it weakens the immune system and, as a result, is associated with increased skin susceptibility to infection [4]. For example, research studies conducted by the team of Dr. Al'Abadie – the clinical director of dermatology wards at the New Cross and Cannock Chase Hospitals in England – indicate a significant relationship between stress and the onset and course of many skin diseases (psoriasis, atopic dermatitis, alopecia areata, urticaria, hyperhidrosis). Many of his patients emphasized the adverse impact of stressful life events (family problems, difficulties at work or school) on the course of skin diseases. [5]
It has also been proven that stress affects the skin's defenses, may interfere with its regeneration process and reduce the ability to let harmful substances through. Its delicate microbiota is also disturbed. As a result, redness, itching, burning or general skin hypersensitivity may appear. These, in turn, affect well-being and mood. This inspired us to create the MOOD'FLUENCER rejuvenating Liposomal Booster, which contains Sensityl ™ – an extract from marine phytoplankton, which reduces redness and has a calming and soothing effect on irritated skin, while taking care of its microbiome.
According to prof. Anna Zalewska-Janowska, head of the Department of Psychodermatology at the Interfaculty Department of Clinical Immunology and Rheumatology at the Medical University of Lodz: "Chronic stress reduces lipid production, and without them the skin becomes vulnerable. Detergents penetrate the epidermis more easily, causing damage. Under the influence of stress, neurogenic inflammation also occurs. Inflammation in the skin is caused by the participation of nerves and their mediators – neuropeptides – but it is the same as the inflammation caused by bacteria "[6].
A large number of environmental stressors that threaten proper functioning of our skin inspired us to create products that would support its natural protective shield. That is why our SMART SPLASH cream contains adaptogens, i.e. herbs and fungi that have a calming and balancing effect on the skin irritated by adverse environmental factors. The adaptogens found in SMART SPLASH cream include:
Rhodiola rose root – it is an excellent source of energy for skin cells

powdered Reshi mushroom – it neutralizes free radicals which accelerate the aging process,

Indian ginseng root – Ashwagandha – it protects skin cells against blue light

.
But this is not the end! Our skin rejuvenating FLOWER YOURSELF flower serum also provides fantastic support. It contains Goldella extract obtained from the microalgae chlorella vulgaris and a high content of lutein – a powerful antioxidant that supports the skin's natural defenses, restores the skin and protects it from oxidative stress and inflammation – i.e. accelerated skin aging caused by environmental factors (e.g. excessive exposure to UV, blue light, smog, and stress). Skin which is exposed to these factors accumulates large amounts of free radicals and reacts with internal, chronic inflammation, called  inflammaging.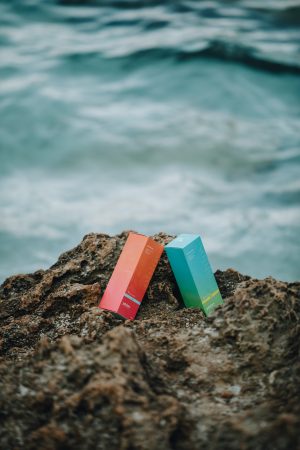 Skin condition and well-being
We already know that stress worsens the complexion. However, it is good to know that in this case there is also an inverse relationship, because the condition of the skin (often due to hormones, poorly selected care, external factors such as smog and UV radiation) can negatively affect our well-being. Most studies dealing with this phenomenon concern the impact of acne skin on depressive states – the latest study conducted in 2018 by British scientists confirms this on a very large scale. Researchers from the Department of Community Health Sciences of the University of Calgary collected medical records of almost 2 million men and women – 134 427 with acne and 1 731 608 without acne lesions. The documents spanned 15 years of clinical research. It turned out that people with acne had a higher risk of depression. In the first year after diagnosis, the risk of developing this disease in patients with acne was as much as 63% higher than in patients who did not have acne [7].
This study illustrates how much the appearance and condition of the skin can affect mood.
One of the ingredients used in Phlov cosmetics, the previously mentioned Sensityl ™, affects the aspect of the BRAIN-SKIN axis, showing the relationship between skin condition and mood improvement. Thanks to the reduction of redness and the calming and soothing effect, it helps to improve well-being. How was this measured? During the research on the effectiveness of this raw material, the unique Mood Portraits® research method [8] based on non-verbal communication was used. It involves using photos to measure consumer mood and emotional responses to various stimuli – in this case, after applying the cream with the Sensityl ™ component. Respondents were asked: "How do you feel when when you think about your skin?" And then they were asked to show photos reflecting their feelings. On the day the study was started, the subjects selected dark and sad photos with negative overtones.
After a month of using the product, the respondents indicated photos with positive overtones: joyful and showing confidence. In the group that used the placebo product without Sensityl ™, changes in sensation relative to their own skin did not occur.
All this knowledge requires a redefinition of the approach to skin care and everything we put on it. Both in terms of composition, consistency, smell as well as action confirmed by tests. Their importance is also confirmed by the aforementioned scientific studies, the results of which show how important the skin condition is for our well-being, and how stress affects skin condition. All these relationships make up the essence of the BRAIN-SKIN connection.
That is why Phlov cosmetics have been developed to support your skin in everyday functioning and strengthen its natural protective shield, while also cultivating your well-being. In our recipes you will find a huge wealth of ingredients: vegetable taurine, bioactive fruit waters, fermented ingredients, micro-liposomes, biopeptides, superfruits, synbiotics, microalgae extract and adaptogens, and that's not all.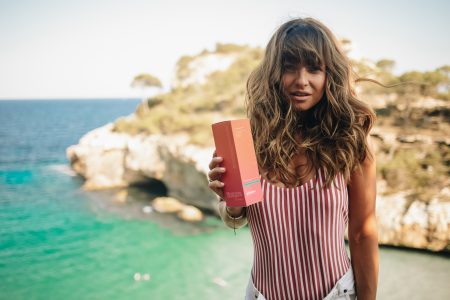 Find Your Flow
However, remember that Phlov is much more than just natural care. As a brand, we also want to support you in finding the things that make you feel the flow and feel happy every day. Our approach to care is perfectly summarized by this quote from prof. Anna Zalewska-Janowska: "When you smile, even forcibly, the same impulses run into the brain as with a sincere smile. The brain receives this as a signal for the production of happiness hormones, which translates into skin condition. Therefore, even if you see the world in black colors, smile to yourself while putting on the cream"[6].
That's why today I invite you to follow me and look for your PHLOV. Or have you already found it? You must let me know!
Bibliography:
Ted A. Grossbart, Ph.D. Carl Sherman, Ph.D., SKIN DEEP A Mind/Body Program for Healthy Skin, Health Press, 2009.

Bahman Guyuron, M.D., David J. Rowe, M.S., M.D., Adam Bryce Weinfeld, M.D., Yashar Eshraghi, M.D., Amir Fathi, M.D., Seree Iamphongsai, M.D., Factors Contributing to the Facial Aging of Identical Twins, American Society of Plastic Surgeons, 2009.

Aisah A. Aubdool1 and Susan D. Brain1, Neurovascular Aspects of Skin Neurogenic Inflammation, Journal of Investigative Dermatology Symposium Proceedings. 2011; 15: 33–39.

Al'Abadie M.S., Kent G.G., Gawkrodger D.J.: The relationship between stress and the onset and exacerbation of psoriasis and other skin conditions. Br. J. Dermatol. 1994; 130: 199–203.

I.A. Vallerand R.T. Lewinson L.M. Parsons M.W. Lowerison A.D. Frolkis G.G. Kaplan C. Barnabe A.G.M. Bulloch S.B. Patten, Risk of depression among patients with acne in the U.K.: a population‐based cohort study, British Journal of Dermatology. 7.02.2019.

A Churchill, J. Behan, Comparison of methods used to study consumer emotions associated with fragrance, Food Quality and Preference 21(8): 1108-1113.