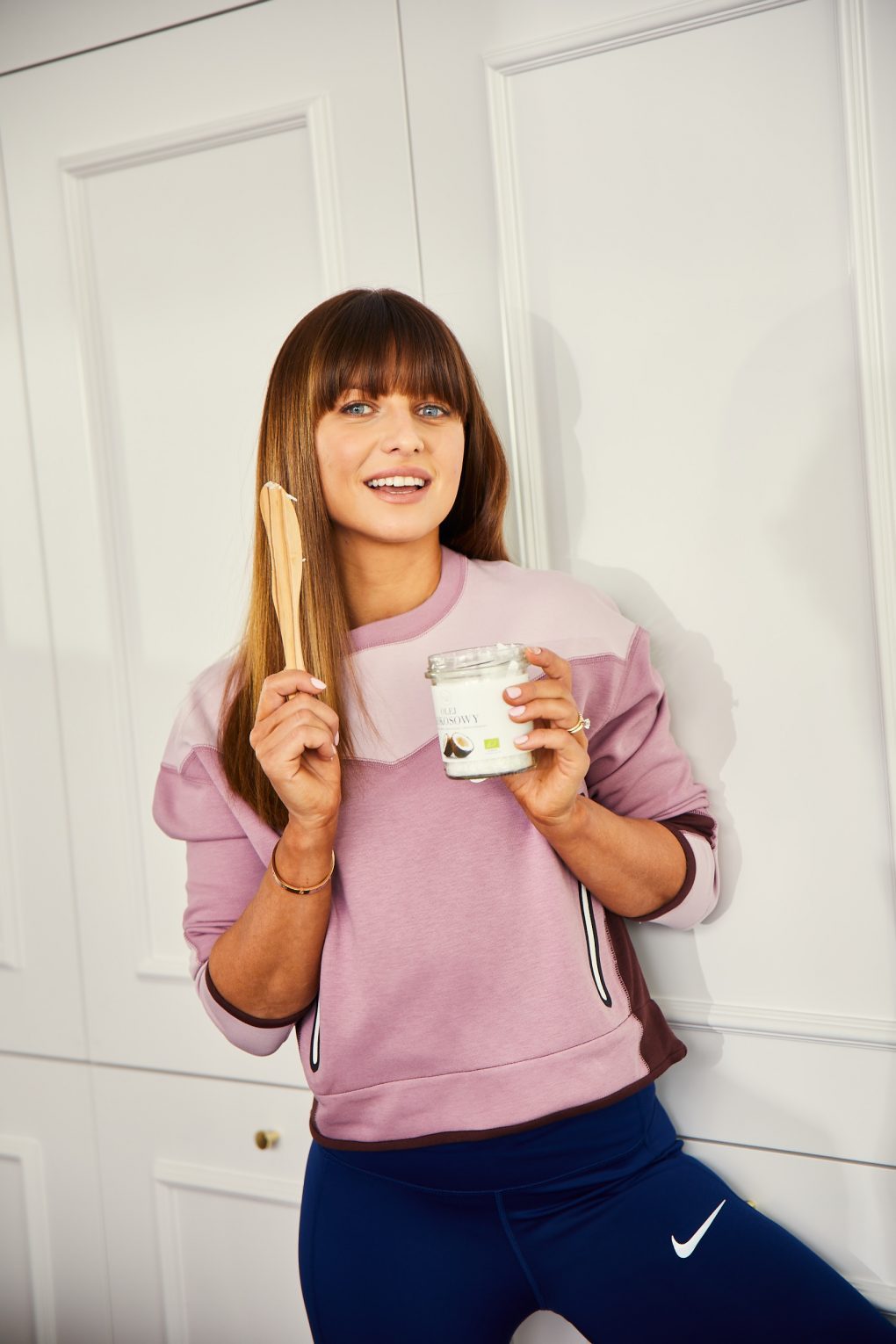 Coconut – the Uncrowned King of Natural Skin Care
I have prepared today's post together with Justyna Żukowska-Bodnar. Enjoy!
Everybody knows about my love for coconuts!
I've always been open about my love for coconut oil both in my cooking and in home skin care. I've read hundreds, if not thousands, of publications about it, that's why today I would like to share with you this love and some facts about the ingredients and cosmetic uses which you can obtain from this versatile nut. I find it fascinating that it's possible to get valuable substances from practically every part of the fruit and the tree. The fruits (nuts) provide us with oil, milk, and coconut water. The shell and husk can be used as natural fuel, or as a building material for various objects. On tropical islands where it is the main crop, coconut palm is called 'the tree of life' or 'the tree of a thousand uses'.
Coconut trivia
coconut palm grows up to 30 m in height

the coconut is empty at the beginning and fills with coconut milk when ripe, but over time the milk diminishes and the fruit becomes a huge pit

people make wine from the coconut tree, and in particular from the juice obtained from young flowers as it contains a lot of natural sugars; coconut wine, which is called 'tuba' is made as a result of fermentation

coconut oil can be used to produce chocolate, soap or as an alternative fuel for diesel engines

pulp flakes remaining after oil pressing are a rich source of protein for farm animals

coconut water is often used as a substitute milk for babies, because it contains lauric acid found in natural milk, it is also a perfect isotonic for the body, which promotes the acid-alkaline balance of the body and heals the hangover :-p

coconut milk contains many plant hormones and is used in botany as a nutrient for the development of "in vitro" tissues

coconut fiber is used as soil fertilizer and peat substitute

young coconut leaves are used in cooking just like our cabbage.
Methods of coconut oil production
Unrefined coconut oil – it is extracted from fresh coconut pulp using only mechanical methods such as cold pressing. High temperature is not used here, so the majority of bioactive nutrients and polyphenols remain intact. It also has a characteristic, insanely coconut aroma and flavor.
Refined coconut oil – extracted from the dried coconut pulp using chemical solvents and high temperature. Unfortunately, a large proportion of nutrients are lost in this process forever. It has no taste and smell.
From the point of view of cosmetic properties, the most valuable products belong to the so-called COCONUT GREAT FIVE:
Unrefined coconut oil – it occurs naturally in the form of soft butter, and it melts at body temperature. It is one of the few natural sources of fatty acids with medium chain, which makes it an extremely effective care ingredient. It helps to maintain and reconstruct the proper lipid barrier of the epidermis and nourishes the skin. It has proven antibacterial, antiviral, antifungal and anti-inflammatory properties.
Coconut water and coconut juice – usually collected from young, immature coconuts. They are extremely rich in electrolytes, vitamins, sugars and amino acids, so drinks with their use are extremely popular among people who are active. Coconut water is known for its antibacterial and antiviral properties due to the content of bioactive compounds such as kinetin and monolaurin.
Coconut alkanes – they give an amazing, rich, yet non-greasy feeling on the skin. They Intensely moisturize and smooth. They complement the natural lipid barrier of the epidermis.
Coconut esters – they leave a silky feel on the skin. They form a biological, breathable dressing on the skin.
Coconut oil in cosmetics
Thanks to the huge number of scientific publications, we know that unrefined coconut oil is a universal cosmetic with thousands of possible uses, such as.:
an excellent moisturizing and smoothing formula for people who have problems with rough, dehydrated skin prone to irritation

improves the functionality of natural skin lipids, limiting the number of infections, eg in case of atopic skin or psoriasis

increases collagen crosslinking, thanks to which minor skin lesions, abrasions and micro-injuries heal faster

limits the development of Propionibacterium acnes responsible for the development of acne, due to its anti-inflammatory properties reduces swelling and inflammation. Many people with oily or mixed skin will be afraid of excessive skin load, so I encourage you to explore the topic of sebum oleostasis and its composition, which affects the development of acne

it is a natural, low SPF sunscreen

thanks to its structure, which resembles the structure of proteins in the hair, it can penetrate deep into the hair. It smoothes out the hair's cuticle scale and increases its volume

it has been proven that people who had problems with gingivitis, bleeding tendency or excess plaque, and who rinsed their mouth with coconut oil or rubbed it into their gums, noticed a significant reduction in their symptoms
COCO SPA in your home
I constantly come up with new possible uses of coconut oil, many of them are really simple and pleasant to use. Maybe you will also want to create a small coconut SPA in your home. Preparing these mini treatments won't take long:
skin oil –

I like this option especially in summer. After bathing, massage a small amount of oil into wet skin. Then dry the skin with a towel and remove excess oil

fluffy butter

– melt the oil at low temperature and blend until it resembles fluffy butter. Applying it onto your skin is simply wonderful <3

coconut make-up removal oil –

you can use pure coconut oil or combine it with other oils such as rice, macadamia, apricot kernel oil. Rub the oil into the skin with circular movements. Both the contaminants accumulated during the day and the makeup will dissolve. Remove them with a microfiber cloth

body scrub –

half a glass of oil combined with any natural abrasive – sugar or salt, perfectly copes with dry skin, and the effect of nutrition and hydration will last long after the treatment. You mix in your favorite additions – honey, ground coffee, ground apricot kernels, or your favorite essential oil

lip scrub –

Grind a tablespoon of coconut oil, two tablespoons of brown sugar and a tablespoon of honey in a mortar. And you get a supereasy, sweet DIY lip scrub in no time!

lip balm –

remedy for parched lips. You can take it with you anywhere, it has a semi-solid consistency at room temperature. Pack a bit of your favorite butter in a small jar and enjoy moisturized lips throughout the day.

P.S. If you have a lipstick in your favorite color which you can not use because it overdries your lips, use it to create a colorful coconut lip gloss and enjoy it every day
coconut toothpaste with clay –

2 tablespoons of pink or white clay, 4 tablespoons of boiled water, 1 tablespoon of coconut oil, ¼ teaspoon of stevia or xylitol, a few drops of peppermint or spearmint oil, a pinch of fine sea salt (natural preservative). Dissolve the clay with water and salt, add the remaining ingredients and mix thoroughly. Store in a small jar for 2 weeks most preferably in the fridge due to the water content

nourishing mask for hair and scalp –

perfect for dry, dyed and dull hair. Rub a small amount of coconut oil into your hair and scalp to relieve irritation and dry skin. Leave for at least an hour, then wash the scalp and hair twice with shampoo. Coconut oil perfectly maintains the hydration of the hair and prevents them from becoming too dry

butter for cuticles –

if dry skin around the nails bothers you, massage in a little coconut oil that you can mix with lemon juice and a little olive oil

natural stretch mark balm –

thanks to the properties that increase collagen crosslinking, it is perfect for skin care of pregnant women or during rapid growth during puberty. It improves elasticity, softens the skin and reduces TEWL

aromatherapy oil for cold

– Add 3 tablespoons of coconut oil with a few drops of eucalyptus oil and 5/6 drops of peppermint oil. The mixture prepared in this way can be rubbed into the chest, feet and hands to facilitate breathing