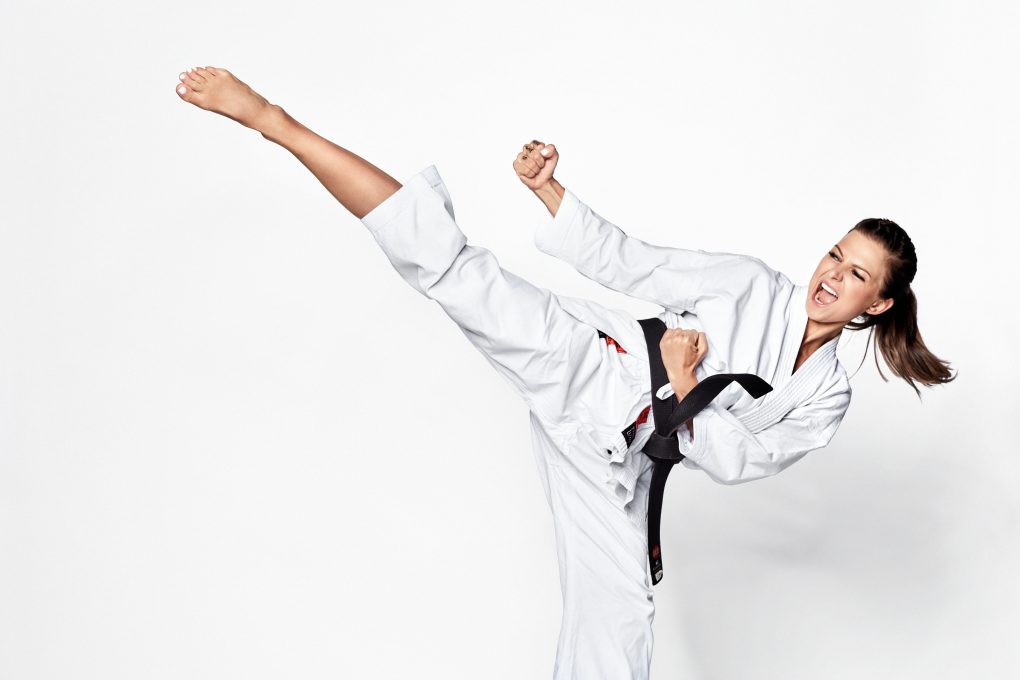 Karate – how sport changed me
How sport changed me?

We know each other since some time and you know that I love to promote a healthy lifestyle. I am convincing you that it's worth being active for many years because it is one of the foundations of health. I wrote about it on my blog HERE.
It is possible that one of you still does not know my story and does not know why sport is so close to my heart and why I devoted it not only to private life, but also to my professional life.
I became a karate adept at the age of ten. Quickly I swallowed the bug and training became my everyday life. I got into karate with my whole body because it's not just a sport or self-defense art.
It's a discipline that taught me respect for others, self-control and honesty,  these are just some of the values ​​given to me by my trainers. With full awareness as I am saying – karate is not only sport, but also great values.
This discipline is accompanied by a special label, clothes and culture that create a unique atmosphere conducive to physical and mental development. In retrospect, I know that this sport has shaped me as a human being, it has made my strong character and it has undoubtedly significantly influenced my attitude towards life. Each workout is not just a muscle training!
I was also involved in traditional karate as a professional athlete and I had the honor to represent Poland at international competitions. I am not able to express the emotions you feel when I heard the National Anthem – Mazurek Dąbrowskiego, when I stood with the medal on the podium … I miss it the most.  Although the sublimity of this moment can not be compared with anything, at one point I have decided that it was time to finish this stage in life.
Nothing happens without a reason – I gave up representing our country for other priorities!
Sometimes it seems to us that if we give up some of our life, activities, studies or hobbies, we lose something. Yes, but only in this way we gain time and space for something new that inspired us to act.
Earlier, I thought many times that traditional karate is my strong foundation, that I could not imagine my life without training in kimono. Every day I had such a tight schedule that it was impossible to find time for other things. I do not know when the changes took place, but slowly a space appeared in which I could pursue further goals. From my once-beloved karate, I have been given the same determination, motivation and self-confidence. They drive me to achieve further goals, but in other areas.
Gdyby nie karate – może nie poszłabym na studia na AWF:)
If it wasn't karate – I would not be in the place where I am now. I would not be a personal and fitness trainer.
If it wasn't karate- I would not organize dojo training camps for you (Japanese Center for the Martial Arts) or other events
If it wasn't karate – maybe I would not go to university to study Physical Education 🙂

How sport changed me?
CONCLUSION: you know when and where you want to be. Harmony and order prevailed in my life. Taught to subordinate to the trainings of other plans, now I submit to my duties, which I considered to be a priority.
CONCLUSION: I respect overarching values and principles, I know my duties and fulfill them.
a girl who wants to win> a woman who can lose



CONCLUSION: failures happen to everyone, but they motivate you to work on yourself.
 

living day by day, without plans, catching what the day will bring> organized and consistent in action



CONCLUSION: I know what to do, I plan the future, I assume different scenarios and solutions, I persistently strive to implement plans
complexes> self-confidence
CONCLUSION: I have learned my worth, I know what I can and I am persuading others not to doubt themselves.
confusion> purpose and vision in life
CONCLUSION: I know my weaknesses and strengths, I know what I want and I am determined to pursue my goal.
petite girl> athlete
CONCLUSION: I have earned my muscles and a healthy body, I know I have strength and I can overcome many difficulties.
fear of pain> physical stress translating into mental strength
CONCLUSION: I can face difficulties.
I'm mediocre> I'm getting medals
CONCLUSION: hard work has been rewarded
Sport has changed my life. I owe to sport everything I have achieved in my life. Sport is an idea, a value in itself.
Among you there are many professional and amateur athletes. How did daily exercises shaped your characters?