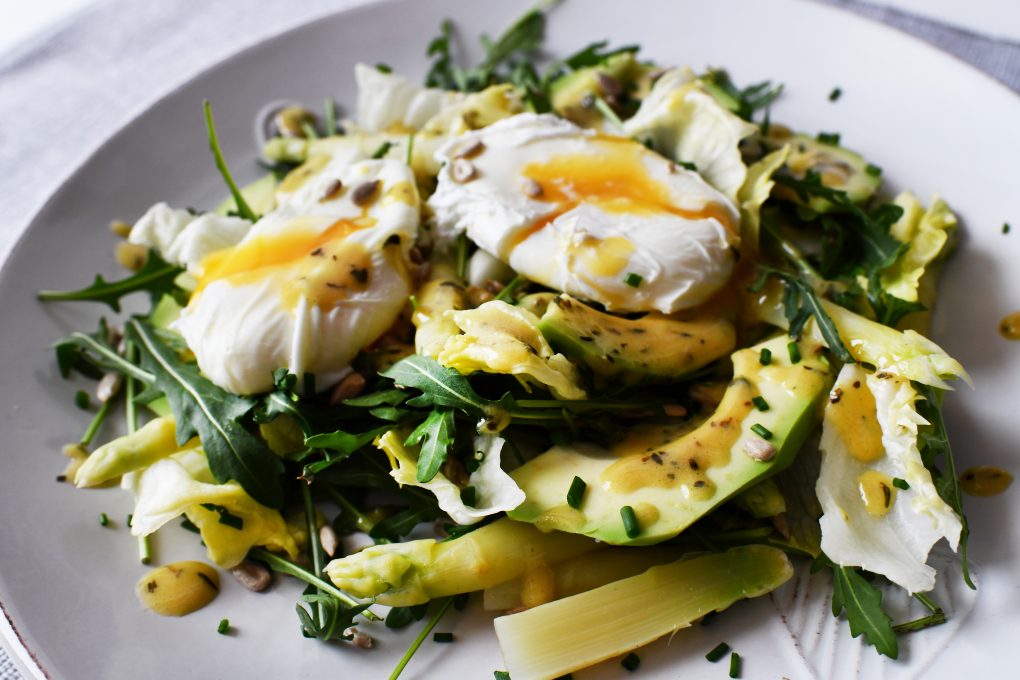 Spring salad with poached eggs
A poached egg is a unique dish, often served in the most fancy restaurants. No wonder! After all, it is admired not only for its taste but also for the exquisite look. Nevertheless, it is neither difficult nor time-consuming to prepare. You only need to use the right method of pouring a raw egg to boiling water and then wrapping  the egg white around the yolk. You can serve it this way with Your favourite extras. Today I offer You my recipe for a light, tasty and healthy spring salad with a poached egg.
Preparation:
I washed the asparagus thoroughly, cut off the woody ends and steamed for 10 minutes (or boiled in slightly salted water).
I washed the lettuce and arugula and dried them with a towel.
I put the  leaves into a bowl, added asparagus cut into smaller pieces and sprinkled with sunflower seeds.
I mixed the sauce ingredients in a separate bowl.
I poured water into a pan, boiled it and then reduced to a simmer. With the egg in a bowl in one hand, I stirred the water to create a gentle whirlpool and quickly poured the egg into it. I helped the egg white envelope the soft yolk. After exactly 2.5 minutes my poached egg looked like a mozzarella ball and tasted even better 🙂
Enjoy!
You can find more recipes with delicious, seasonal products in my Diet & Training by Ann application.