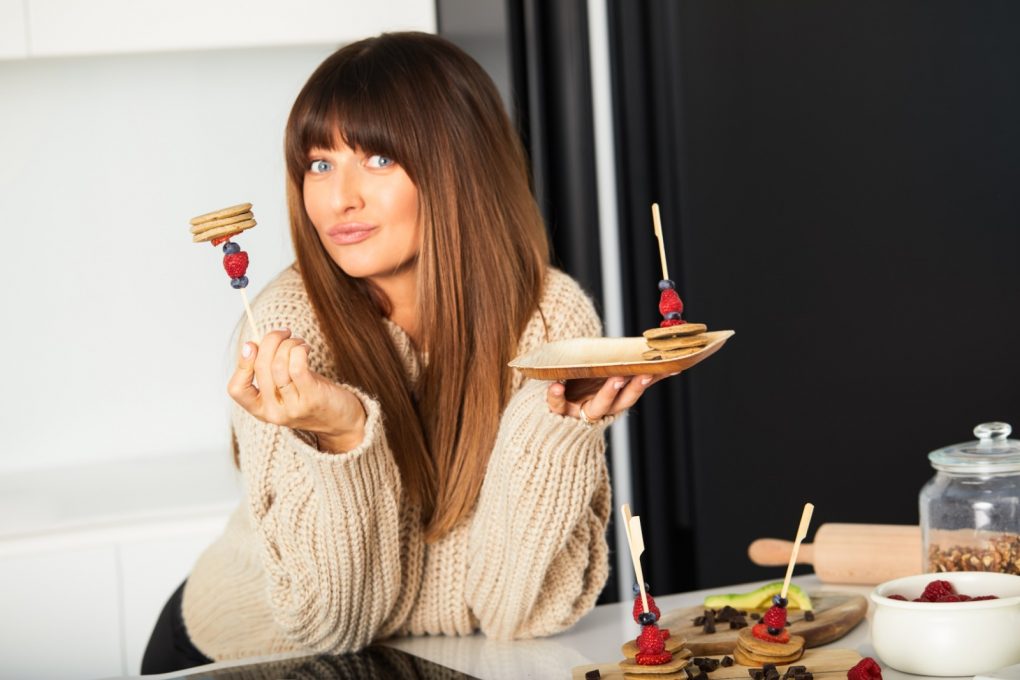 Everyday Life Under Quarantine
During quarantine, you can either choose a healthy diet or …make friends with the fridge and lose control. The choice is yours. The most important thing is faith in your abilities. There's no better time to show that it's worth proving yourself that you can do it!
Why?
As we know, #stayathome is a huge challenge for all of us and one of the biggest temptations now is food. 
As you know, snacking between meals can be a big problem. Unfortunately, it often turns out that we don't care if it's something sweet, salty, or simply unhealthy.
I must admit that it is also quite a challenge for me, especially now …
How to deal with it?
1. Plan your meals, especially breakfast, lunch, and dinner, but don't forget about healthy snacks.
Lack of proper organization or plan means that we may prolong the break between meals too much, then our appetite grows and, when passing by the fridge (the journey from the living room to the kitchen is a lot of entertainment nowadays :)), we grab something quick that is often full of tasty carbohydrates.
In this way, your menu is no longer balanced, and carbohydrates increase appetite … So … We reach for another snack. How does it happen? When we consume processed foods, such as simple carbohydrates, they are quickly digested, and the level of glucose (sugar) in the blood increases as quickly as it falls. This often causes drowsiness and a craving for another meal (energy supply).
2. Make your breakfast varied
Monotony encourages snacking… One day you can have carb breakfast, e.g. porridge with fruit, another day fat-protein breakfast, e.g. scrambled eggs with vegetables. I do love breakfasts so if you run out of ideas for the first meal of your day, check HERE 🙂
3. Remember about water
Lack of proper fluid intake badly affects the functioning of your whole body. Headaches indicate dehydration, so do not wait until you're thirsty, sip water regularly throughout the day. Water retention is often caused by dehydration. Therefore, drink water for your own health.
4. Get enough sleep!
Find out what your optimal amount of sleep is. Lack of proper regeneration and sleep deprivation affect weight maintenance problems and often sabotage fat reduction.
5. Remember to eat after a workout!
It will help replenish glycogen levels (fuel for muscles) and support the body's regeneration after exercise.
6. Do not buy products which are bad for you!
The most important thing is to listen to your body. It will let you know what is good for it and what is not. Abdominal pain, headache, drowsiness, trouble concentrating, nervousness … These are all signals … Don't underestimate them. Note after which products these symptoms intensify.
And now… A problem everyone has
Do you get stressed out? Do you know what stress eating is?
Find your way to de-stress: 
training,

yoga,

breathing,

talking to someone who gives you positive energy, calms you down,

a relaxing bath with your favorite music in the background.
You can join my new Train at Home challenge in my app Diet & Training by Ann. It's easier to train together 🙂
I know, I know… It's not always so easy, but we all are now struggling with the same problems. Unfortunately, we can't influence everything … but, it's up to us what choices we make! What you do for yourself depends to a large extent on you! 
Have a beautiful day!