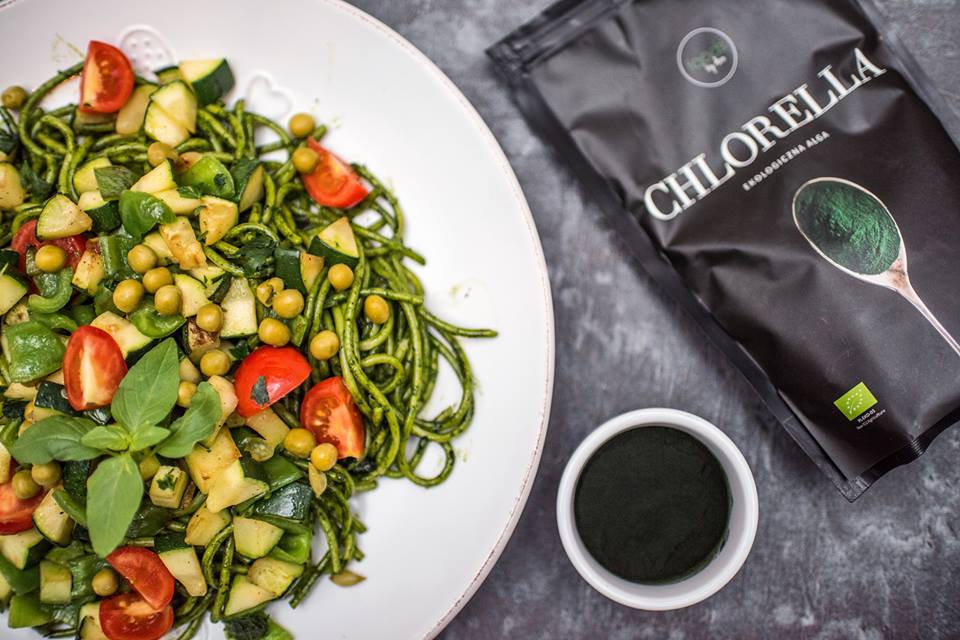 Gluten free spaghetti with vegetables and green pesto
Often you ask to what I add spirulina or chlorella because you do not have idea how to use it.
I try to experiment in the kitchen and mix different flavors. Spirulina and chlorella are rich in nutritional value, but not everyone likes the taste. I therefore propose to add them to certain dishes 🙂
Today, I will use them for spaghetti, i will add it to the pesto, which will be my spaghetti sauce.
 Gluten free spaghetti with vegetables and green pesto
Preparation:
Prepare pesto – simmer the garlic in a little olive oil. Then blend it with pumpkin seeds and tablespoon of spirulina or chlorella,add salt, pepper, spinach and olive oil. Simmer chopped zucchini in olive oil with peppers and tomatoes. Add salt,pepper,  parsley and season with herbs of your choice ex. Oregano.
In a separate pot, cook the pasta. Then mix it with prepared pesto and sprinkle with green peas