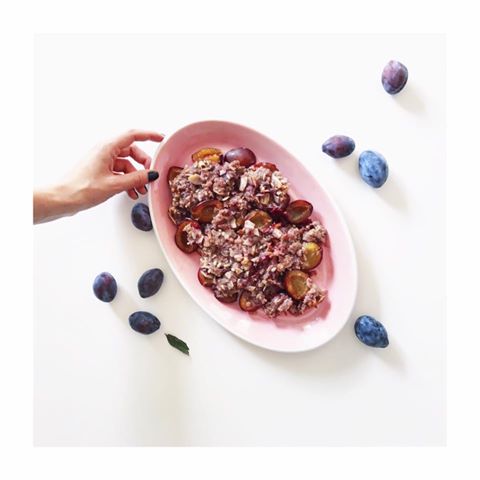 It seems to me that this summer we didn't have the recipe with plums? I have to make up for it because the season for plums is finally here.
Plums are fruits that, thanks to the high content of pectin, are beneficial for our digestive system. In addition, they are a good source of potassium and magnesium. We also find beta-carotene, calcium and phosphorus.
Today I propose plum crumble!
Preparation:
Soak oats for about 5 minutes in hot water. In the meantime, wash the plums thoroughly and cut in half and remove the seeds, place the plums in a heat resistant dish. In a bowl mix syrup, soaked oats, oil (in liquid form). Place the  mixture on to the plums. Preheat the oven and bake for 15 minutes in 180 degrees.
Once done, put coconut yogurt in a bowl and add plums with crumble
The crumble also tastes great without yogurt. I urge you to experiment and create your combinations 🙂