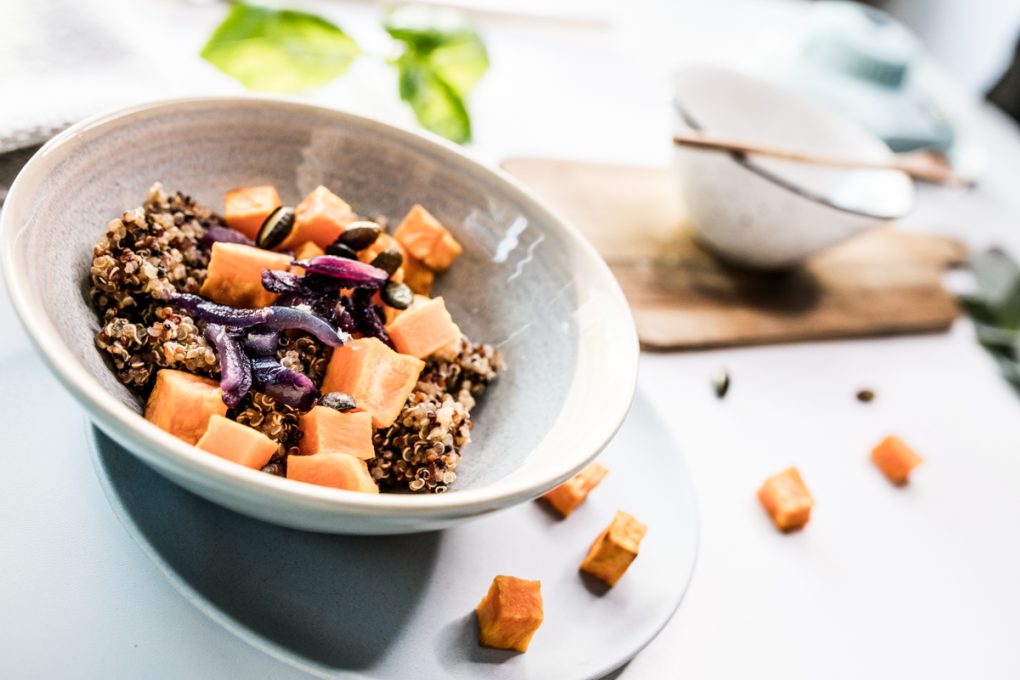 Quinoa and Sweet Potato Salad
Today I've prepared a salad that's simple but thanks to the spices it's really well-seasoned. I added some sweet  potato, which means lots of beta-carotene with antioxidant properties. Sweet potatoes also contain B-vitamins, vitamin C as well as iron, magnesium or phosphorus. They are also a great source of carbohydrates which are very important in sports nutrition. I recommend them especially before or after a workout.
Pack it for your lunch at work, it is also great e.g. as dinner.
Enjoy 🙂
Preparation:
I peeled the sweet potato and diced it. Then I thinly sliced the onion and baked it with the sweet potato in the oven for about 10-15 minutes at 180°C. I rinsed the quinoa under cold running water and cooked following the recipe on the packaging. I prepared the sauce by combining the lemon juice with balsamic vinegar, maple syrup, and soy sauce, and added the spices: cinnamon, ginger, cardamom, and chilli. I placed the spinach on a plate, put the quinoa over it, then the sweet potato and the onion. I sprinkled it all with the sprouts and pumpkin seeds.