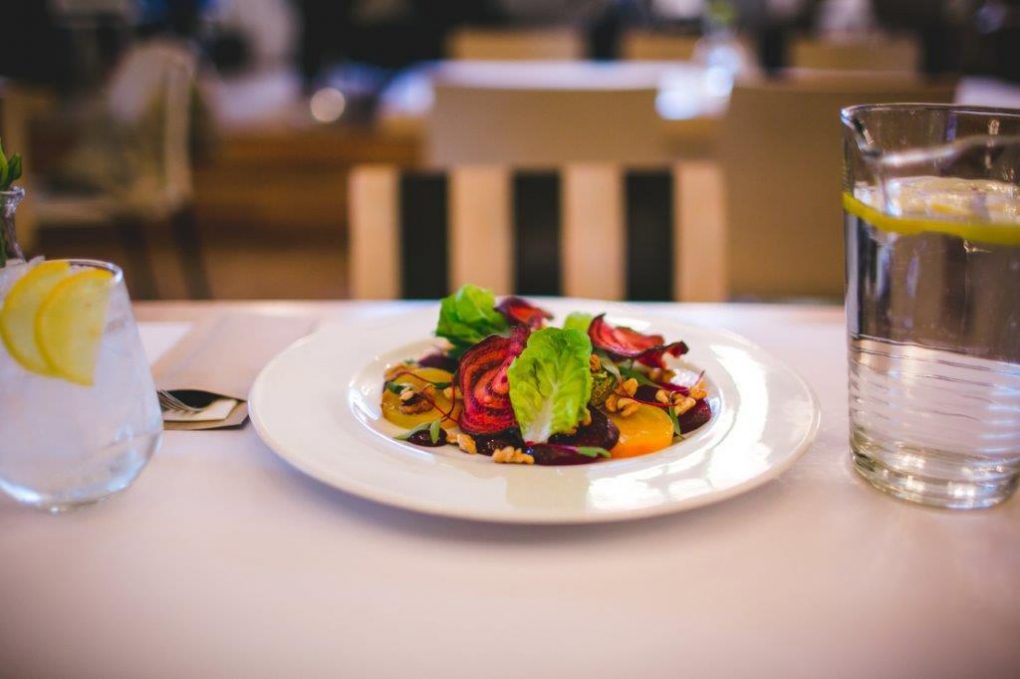 Salad with two-colored beetroots and quinoa
Romaine lettuce with quinoa, beetroots and walnuts
Today, a salad with beetroots, but with the one slightly less known;)
Have you ever heard about the yellow beetroots variety? Less known but equally healthy. I saw that they are available in many stores, so if you have opportunities, I recommend you to try it. In my opinion, they are sweeter and have a more delicate flavor than their red "cousins". In addition, they light up your plate during the winter days 🙂
Preparation :
Clean the broth veggies thoroughly, peel and cook the broth. Place the quinoa on a pan, simmer and add vegetable broth, cook for around 8-10 minutes. Diced the courgettes  and blanche in the remaining stock, then place it into the ice water to make the zucchini cool down quickly. Wash the yellow and red beets, sprinkle with salt, pepper and fresh thyme and bake in the oven for 2 h at 160 degrees. From the remaining yellow beets, squeeze the juice, place the juice into a saucepan and cook a simple reduction sauce, meaning you want to cook till the juice will turn into a thick syrup.Once done,let it cool down and  add a little olive oil. Cook the forest fruits until tender and then blend for a puree.
Combine the quinoa with olive oil, add cooked courgettes, chopped parsley and season  with salt, pepper and lemon juice. Slice the roasted beetroot, season with beetroot dressing.
Cut walnuts  into small pieces. Place a quinoa on a plate, arrange pieces of beets and nuts on it. Cover it with lettuce leaves, arrange the micro-herbs and pour the forest fruit sauce gently.
Bon Appetit!