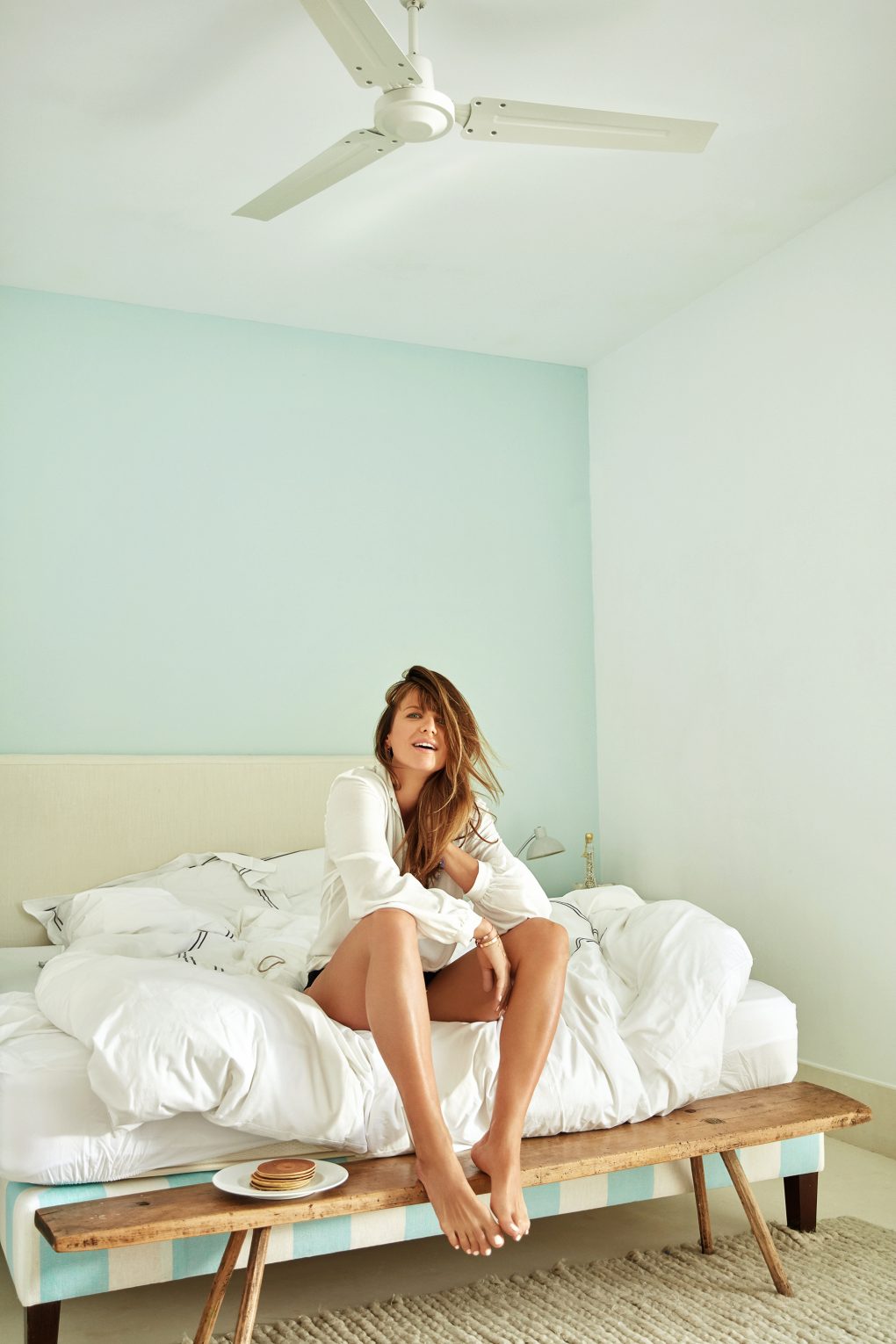 11 Breakfast Ideas by Ann
Breakfast is the most important meal in a day. How many times have you heard that statement? I will keep repeating it over and over again! Remember that it is breakfast that gives us the boost we need to start our day off right with the energy to act. And let me just add that there are studies which actually claim there is a connection between skipping breakfast and a higher risk of obesity. Are you struggling with extra kilos? Well, it's high time you started eating breakfast!
OK, you will probably answer it's easier said than done… It's not! And here I come with solid proof: 11 breakfasts by Ann – easy, quick and healthy. Pancakes, omelettes, or millet porridge, all my favorite ideas in one place just for you.
Chestnut Pancakes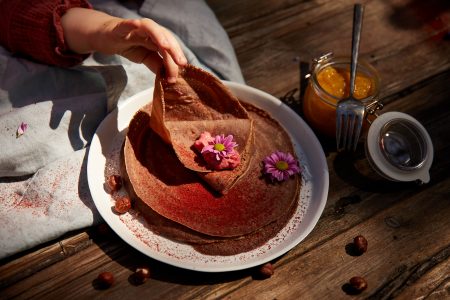 Ingredients (for about 10-12 pancakes): 
120 g chestnut flour

2 eggs

0,5 teaspoon gluten-free baking powder

200 ml coconut milk

 a pinch of cinnamon

1 tablespoon

cocoa

1 tablespoon

coconut oil
Preparation:
Mix all the ingredients for pancakes until smooth. Heat the coconut oil on a pan and pour the mixture forming thin pancakes. Fry them and when ready, serve with your favourite homemade jam or preserve.
Porridge with coconut sugar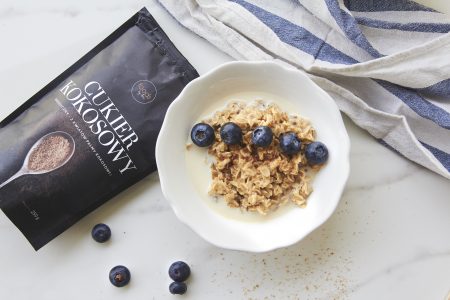 Ingredients:
60 g

oatmeal

2 teaspoons

coconut sugar

1 teaspoon

ghee

1 cup almond milk

1 teaspoon flaxseed

a handful of fruit (e.g. blueberries)
Preparation:
Soak the oatmeal in water overnight. In the morning stir in the milk and cook over medium heat adding ghee, sugar, and flaxseed. Serve with blueberries. 
Banana pancakes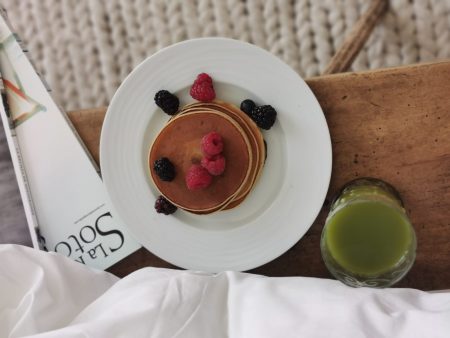 Ingredients:
2 ripe bananas

1 apple

2 eggs

3 tablespoons coconut flour

a pinch of cinnamon

a pinch of baking soda

a pinch of vanilla

15 g plant proteinb

1 tablespoon

coconut oil
Preparation:
Put all the ingredients, except for the apple, into a bowl and stir. Peel the apple, cut into pieces and add to the mixture. Melt the oil in a pan, put round-shaped metal moulds on the pan and pour the dough into them. Fry on both sides, several minutes each.
Millet pancakes with raspberry & strawberry mousse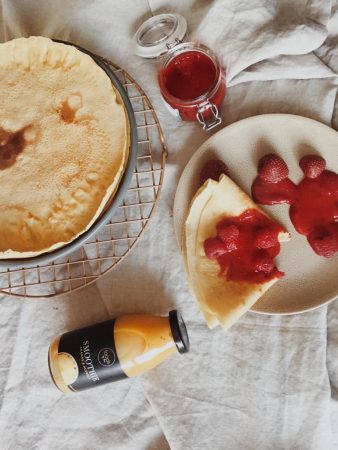 Ingredients:
Batter:
1,5 cup cooked millet groats

1 cup coconut milk

5 tablespoons potato or coconut flour

4 tablespoons

coconut oil

1 egg

a pinch of Himalayan salt
Mousse:
Preparation:
Blend all the batter ingredients. Fry pancakes over medium heat with the lid on. Careful – it takes about 8 minutes to prepare one pancake. It should be kept for quite a long time on one side and then you can flip it. Blend the 
Porridge with a Pear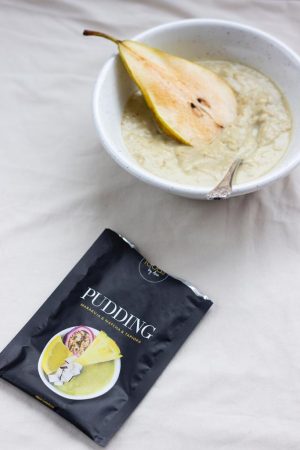 Ingredients:
0,5 cup

oatmeal

1 cup almond milk

1 pear

2 tablespoon

coconut paste

a pinch of turmeric

a handful of raisins

a few hazelnuts
Preparation:
Cook the oatmeal in almond milk with turmeric. Stir in some coconut paste and diced pear. You can also add the raisins or hazelnuts and then sprinkle you porridge with them.  
Millet Pudding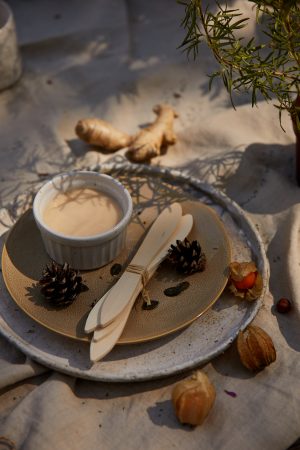 Ingredients:
40 g millet groats

1 cup oat milk

40 g banana

0,5 teaspoon

ghee
Preparation:
Rinse the groats under running cold water and cook in plant-based milk. Add ghee, sliced banana and blend.
Gluten-free waffles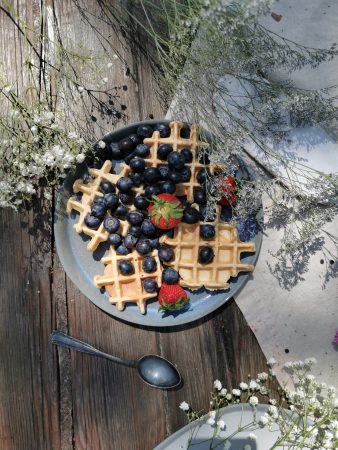 Ingredients:
100 g gluten-free oat flour

30 g rice flour

4 eggs

200 ml oat milk

a pinch of sea salt

a pinch of baking soda or baking powder

1 teaspoon honey

a bit of

coconut oil

(for frying)

fruit for decoration
Preparation:
Mix all the ingredients for batter. Grease the waffle iron and pour the batter onto the plates. Cook the waffles for a few minutes. Serve with fresh fruit.
Millet groats and fruit variations!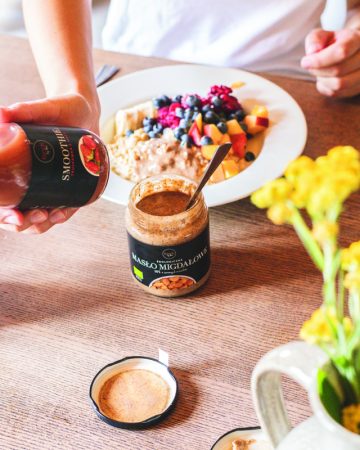 Ingredients:
50-60 g millet groats

1 cup hot water

1 cup coconut milk

1 teaspoon

ghee

a handful of raisins

a handful of walnuts

1 banana

0,5 cup blueberries

1 pomegranate

1 mango

2-3 tablespoons

almond butter
Preparation:
Rinse the groats 1-2 times under cold running water, then cover with water and cook over very low heat for about 15 minutes. Once the water has been absorbed, add plant milk and cook the groats until tender. Add the raisins, walnuts, ghee, sliced bananas and other fruit. Top with almond butter. 
Almond yogurt with topping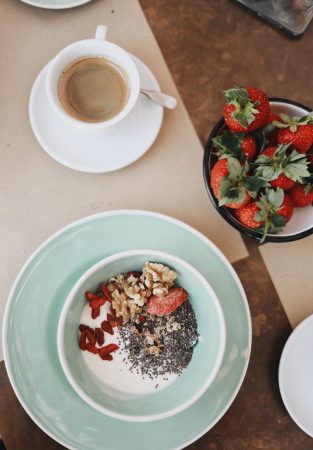 Ingredients:
Yogurt:
1 cup almonds soaked in water

3,5 cups filtered water

2-4 dates (to taste)

1 whole vanilla pod (chopped) or ½ teaspoon vanilla extract

frozen forest fruit

a pinch of sea salt

1 sachet of yogurt starter culture
Toppings:
Preparation:
Place the almonds in a bowl, cover with water and leave overnight (8-10 hours). In the morning rinse them and dry thoroughly. Then blend them with water, dates and vanilla. Mix for about 1 minute at high speed. Transfer the mixture onto a linen cloth which will serve as a sieve. Squeeze the milk through the small holes into a bowl (it may take a few minutes so be patient!). Warm the drink and then stir in one sachet of starter culture (according to the recipe on the packaging it should be added at the temperature of 45 ℃). Leave for 4 hours. Then mix with sea salt and add a few forest fruits (you can crush them with a fork). Refrigerate. Serve the yogurt with all kinds of toppings, such as chia seeds, walnuts, goji berries or fruit.
Omellette with Tomato & Mushrooms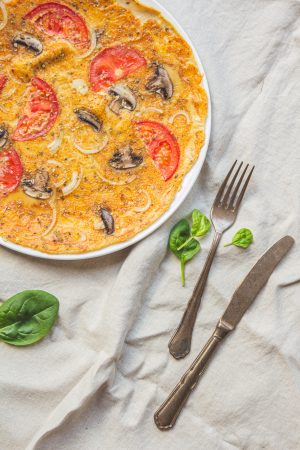 Ingredients:
3 eggs

3 mushrooms

0,3 onion

1 tomato

2 tablespoons coconut flour

3 tablespoons almond milk

1 teaspoon

coconut oil

a pinch of chili powder

a pinch of salt

a pinch of pepper
Preparation:
Slice the tomato. Chop the mushrooms and onion and fry in hot oil. Crack the eggs into a bowl, add flour, milk, spices and scramble everything. POur the mixture onto the fried mushrooms and cover with a lid. Once the mixture has set, flip the omelette, add sliced tomatoes and fry for a short while. 
Cinnamon Porridge with Blueberries & Banana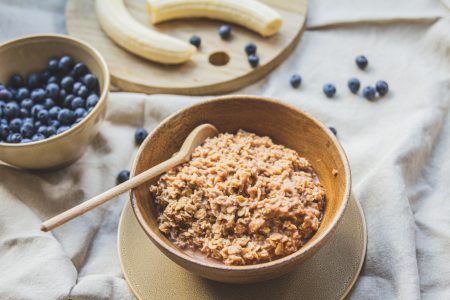 Ingredients:
50 g

gluten-free oatmeal

1 banana

1 handful of blueberries

1 cup water

1 cup plant-based milk (I used almond)

0,5 teaspoon cinnamon

1-2 teaspoons honey
Preparation:
I soaked the oatmeal overnight in almond milk. In the morning I added some water and cinnamon and cooked over medium heat. At the end I stirred in some honey and sliced banana and topped it off with blueberries.