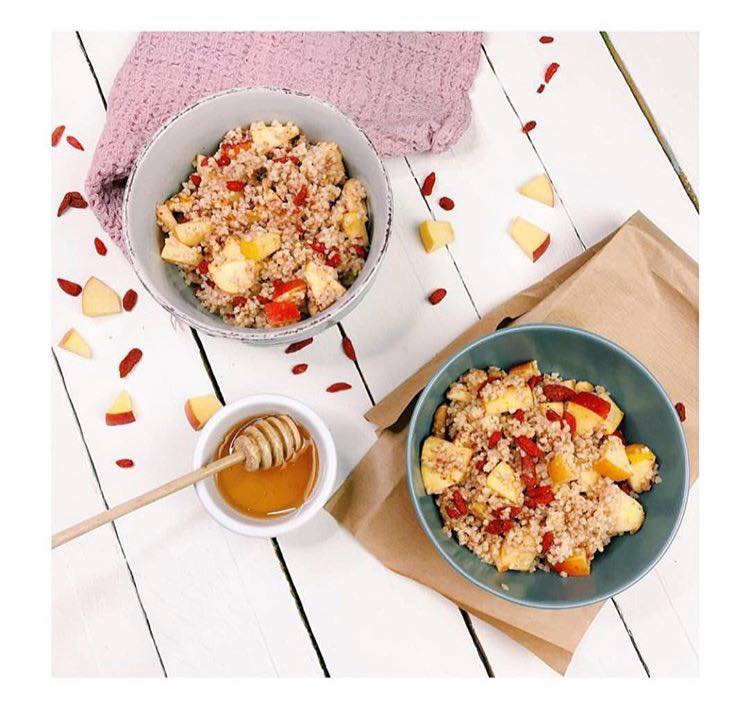 Breakfast that will put you back on your feet!
Warming breakfast,  for those who caught the virus (but not only)!
Do not give up!
Remember that a healthy diet is the best medicine!
Millet with apple, goji berries and strawberry Lio Shake, ghee butter and warming spices
Here's the recipe:
Millet – 0,25 cup/ 45g

1/2 apple
Raisins  – 1/2 tbsp
Dried Goji berries – 1 teaspoon
Honey- 1/4 teaspoons / 3g
cinnamon powder
Ground cloves
Cardamom powder
A pinch of turmeric
Strawberry LIO Shake Foods by Ann – 1 teaspoon


1 teaspoon of ghee butter
Preparation:
Cook the millet a day earlier. Rinse it 1-2 times under running cold water.
Cook the millet according to the recipe on the packaging.
Soak the raisins and berries  in a hot water for 15 minutes.
Heat up the porridge you cooked a day before.
Add honey, ghee  spices and mix together.
Dice the apple.
Mix the porridge with apple and dried fruit.
Stay well!