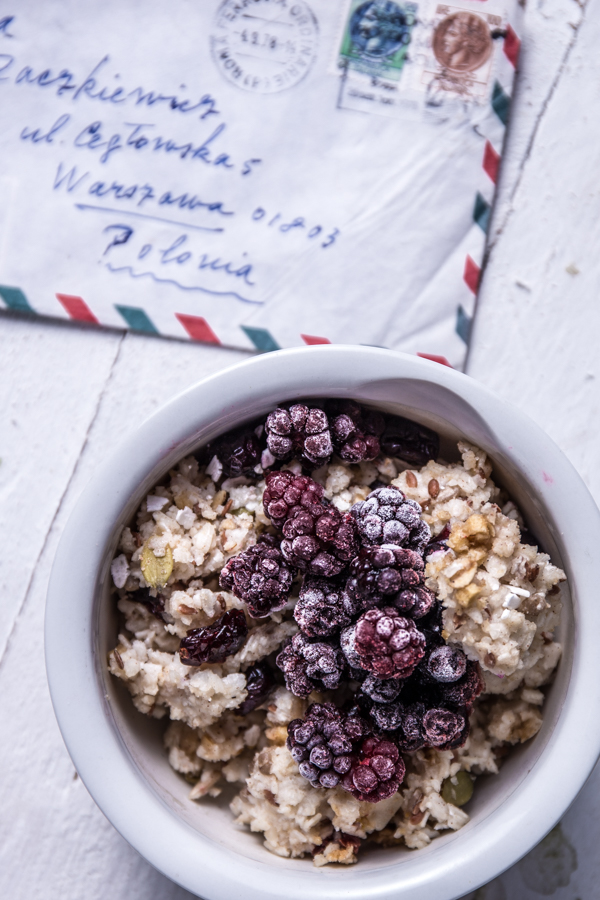 Blackberry oatmeal with clarified butter
You need to start the day with a lot of energy? Not a problem – just fill yourself with energy through a proper breakfast fueled by carbohydrates and clarified butter (ghee).
BENEFITS OF GHEE:
is easier to digest than traditional butter and vegetable oils
reduces inflammation
restores balance in the body; Ayurvedic doctors use it for everything – from skin rejuvenation therapy to regulating the endocrine system.
increases connective tissue elasticity
adds vigor – supports the immune system.
helps the body absorb fat-soluble vitamins (A, D, E, and K)
helps treat slight burns: if applied quickly to the area of the skin that has been damaged, ghee – much like aloe – helps heal wounds, including both burns and other skin problems
improves learning and your memory performance
has healing properties when it comes to treating peptic ulcer, constipation, as well as skin and eye diseases
has skin-smoothing properties
is rich in antioxidants
has antiviral properties
lowers cholesterol levels.
Clarified butter (Ghee) makes meals easier to assimilate, enhances their flavor, and – when used while stewing – it retains the vitamins contained in the food. This type of clarified butter also improves eyesight and decreases excessive body temperature. Moreover, it is also a natural agent that protects cells against free radicals. Interestingly, according to the traditional Ayurvedic medicine, eating ghee restores potency and libido, improves the process of wound healing, and increases concentration.
Of course, we're gonna add some fruit to it ;). Today we'll go with blackberries which are full of nutrition and other health goodies.
PORRIDGE RECIPE
Preparation:
First, I cooked the oatmeal in the pot with plant milk, adding spices, coconut flakes, and flaxseed. I cooked the oats until tender, and then added the malt and half a cup of blackberries. Next, I slightly crushed the fruits with a fork in order to release their juice. Then, I threw in the ghee butter. Finally, I sprinkled the porridge with the remaining blackberries.
If you like, you can add any nuts or seeds you can think of. By doing it, you'll provide the porridge with additional fats and proteins.
You can also add a tablespoon of peanut butter – just not the one made from peanuts which create a hospitable environment for pathogens, and are highly susceptible to mold and mildew – I've written about it many times.
At any rate, enjoy!