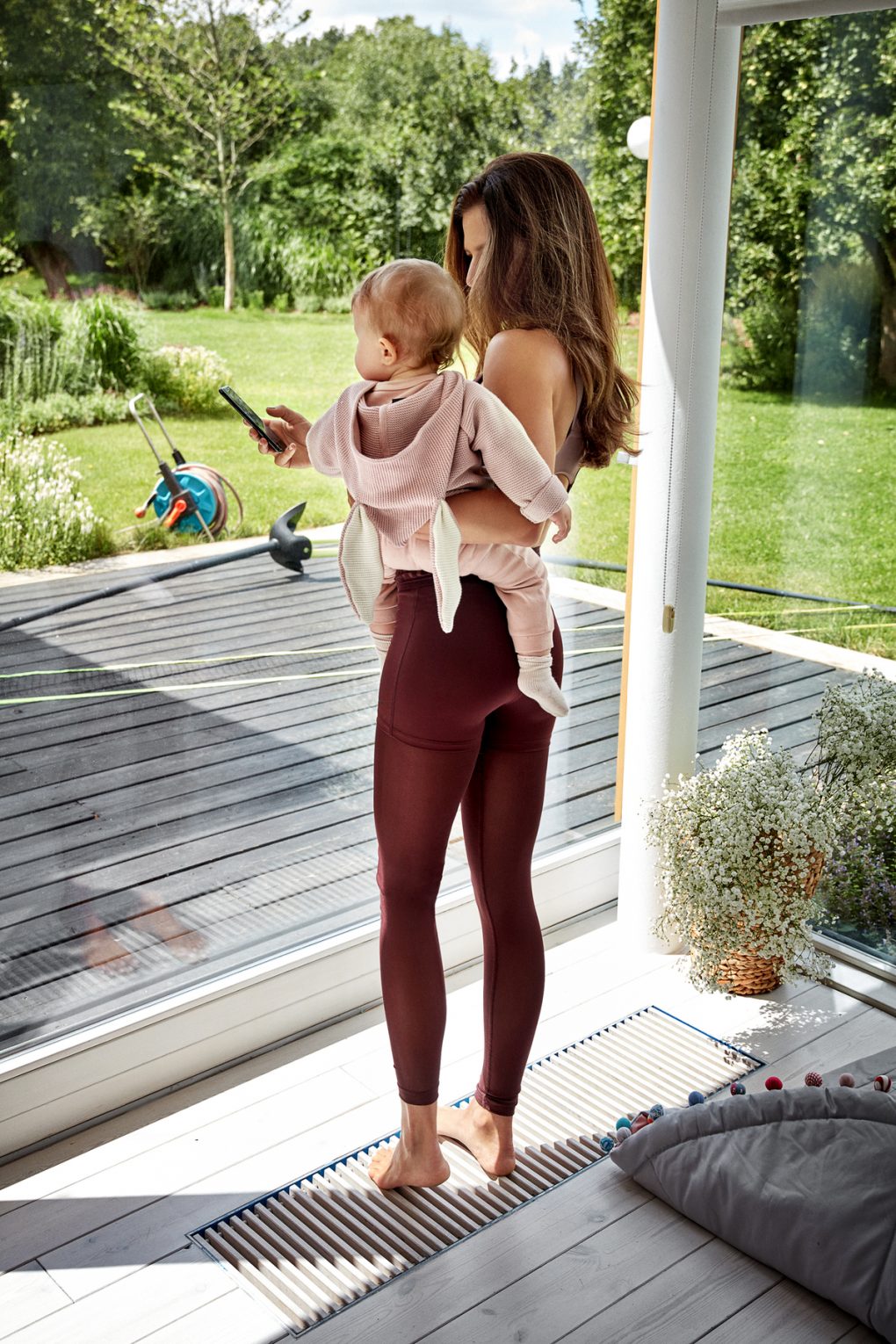 How to plan and organize time and space for your own workout with a kid
Being a mom is a full-time job. When you become a parent, you are totally responsible for this little, vulnerable person. I think it's the most beautiful, valuable thing that can happen to you in your life!
It's true that once your baby is born, you have much less time for yourself. It's more and more difficult to find it for things like, e.g. your workout. If you are a new mom, you know what I mean.
In my Diet & Training by Ann application (https://healthyplanbyann.com/app/) you will find a training programme prepared especially for young moms → HEALTHY MOM is just something for you! 🙂 I have chosen all the exercises so that you can gradually, and most of all SAFELY, get your form back.
Once you feel you're ready to start, then…
Right, then the most important questions arises. WHEN DO I DO THE WORKOUT?
How to find the time for it?
At the beginning it may seem like there's no solution to this problem but believe me – everything is possible with the right plan!
It's crucial to find the right tricks with your baby 😉 I can't promise you it will be a piece of cake but, my dear mom, you do the impossible every day and that's why I know you can solve this problem, too!
Exercise when the baby is asleep
When your baby is taking a nap, you can use this time to do the workout. I also do it quite often. And you can exercise with my app and HEALTHY MOM programme whenever you want – you don't have to make any appointments or follow schedules, I am here for you always and everywhere 😉
However, you must remember not to do it at all costs – if you're really tired because your child is not sleeping at nights then maybe you should consider napping with your baby, too. Remember about yourself! Be good for yourself! Recovering after pregnancy is now one of your biggest priorities. It's true that training does help here but you also need some power to be able to do it. If you're dead tired after a few sleepless nights, it's not the best of solutions.
On the other hand it's really worth (right from the start!) to get your baby used to the sight of mom doing exercise, which means doing something just for yourself 😉 That's why…
Exercise together
Involve your kid in exercising. Lay your baby right next to you on the mat or a blanket, give him or her some toys to play with. It's really important for the baby to be busy with something. Sooner or later he or she will start "exercising" with you – by climbing on your back or crawling around.  
Choose the time of day which is best for the baby. He or she must be rested and in a good mood then the time will be associated with good fun! You will also get your baby used to some positive habits connected with physical activity and it really is a great gift that any parent can give. It will have a positive impact on your baby's psychophysical and social development.
Pick specific days and times for your workout
Of course to the extent it is possible. Each mom knows that plans are there to be changed and we have to be flexible but it's worth doing it anyway. Especially if you can count on your close family or friends' help. A lot of women are ashamed to look for support but I always stress there's no reason to be afraid!
Why is choosing specific days and times helpful? A baby, just like an adult (maybe even more) likes and needs to have a rhythm. He or she will find it easier to get used to seeing you doing the workout if you do it at specific times.
Exercise while walking
Walking with a pram… usually around a park or some other green areas, is a great opportunity to take out your phone, switch on my application and do a short workout! All you need to do the exercises in the Healthy Mom programme is your own weight – there's no need for any specialist equipment. What's more, you don't even need to be online – which is also quite important.
What you really need is a pair of comfortable shoes and some comfy clothes, which, as far as I know, is the most popular outfit with new moms 🙂
Start slowly, step by step
Getting your form back after pregnancy is important both for your body and soul, but there are special rules for doing it. During pregnancy and labour lots of changes happen in your body.  Now it's especially sensitive and delicate. Don't even think about chasing others or comparing yourself to them! Not even to yourself from before the pregnancy. Give yourself time and be patient. Start with shorter training units → in my application you can choose from 3 different workout lengths within the Healthy Mom programme.  
Remember that when you decide to train with the application you can watch the exercises beforehand. It's worth doing it as you will already know what exercises you should do and how to do them well (you will know all the tips for working out the right way). A baby can sometimes really effectively drown the voice of the coach but it is not a problem for you any more 😉
Healthy Mom programme is a perfect solution for every new mom who wants to do something for herself:
improvement in mood and self-esteem

getting your form back

better sleep quality

relieving your stress

positive attitude

and lots of new energy which your baby can feel too
When you work out with my app, the most important thing you get is the possibility for flexible planning of your training, which is especially important for all of us!
Well? Will I see you on the mat?
😉