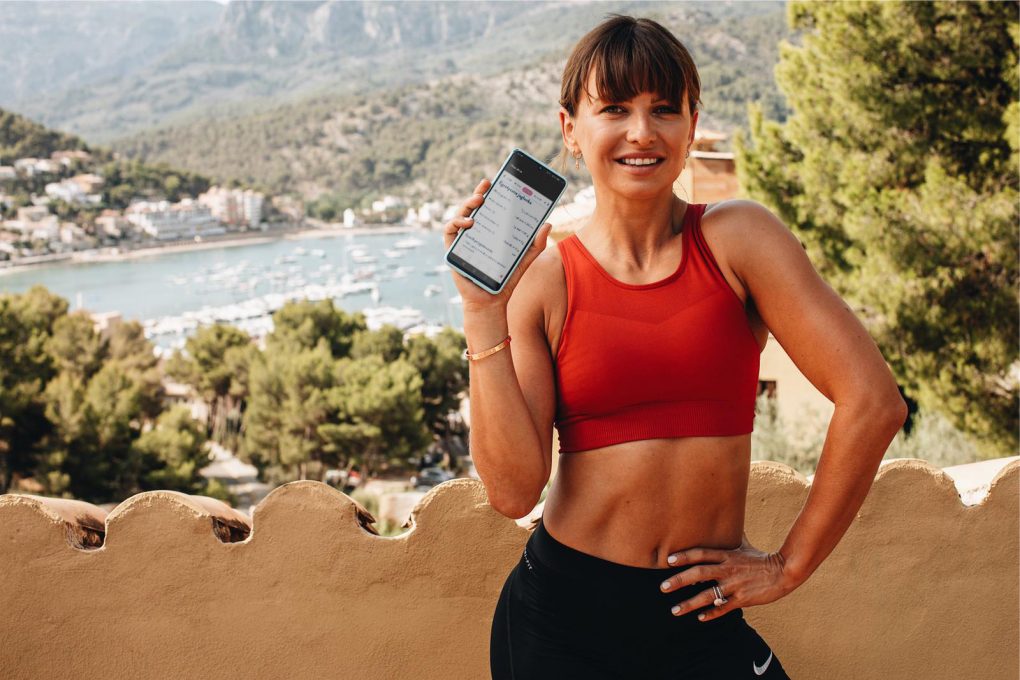 A Short History of my Diets
I'm happy to see that a healthy lifestyle 
I am happy that a healthy lifestyle is popular and there's actually been a   GROWING interest in it. Every day I get a lot of questions and messages from those who are also eager to start it 🙂 That's why I know that people have lots of doubts especially at the beginning of this journey…
"I'm thinking about trying a healthy diet, but where do I start?",

"Ann, I don't tolerate gluten, can I still use the diet in your app?",

"I want to build muscle but I don't eat meat, what would you advise me to do? "
That's why today I decided to come back to the basic principles of healthy eating and the types of diets in my app Diet & Training by Ann. I hope that after reading this post you will no longer have any doubts that everyone can eat and live healthy. And that it's so easy and fun with a personalized diet plan ! 🙂
My philosophy of nutrition and healthy lifestyle
I believe that health is one of the greatest values in life. A slim body, well-being or the energy you feel are things that you can only have if you take care of your health in the first place. And the factor that helps you achieve it is a well-thought-out, individually tailored diet.
Yes, personalization is key when it comes to diet. After all, what is good for me does not have to be good for you! This applies not only to individual food products, but also to calorific value, which after all depends on such personal issues as: age, body weight (the initial and the target one!), gender or lifestyle. If you want to lose 5 kilograms and you exercise 3 times a week, then you can't eat exactly the same as your friend who works out every day, and wants to maintain her present body weight.
That is why everyone in my app receives a diet with individually calculated caloric demand, thanks to which the road to the dream goal is not only simple, but also safe.
The diets in Diet & Training by Ann can be used whether you want to:
lose weight,

gain weight,

maintain body weight,

and even when the goal is to increase muscle mass.
And that's possible because you set your individual dream goal before your diet is personalized. 🙂

Diet & Training by Ann = my diets
You already know that in my application you can be sure to receive a diet tailored to you in terms of calories, as well as your goal. There is one more important issue 😉 What will you actually eat, and what products are not likely to appear on your menu?
In my application I have a classic and a vegetarian diet for you to choose from. 
Diet by Ann Classic
It excludes wheat, cow's milk, GMOs and highly processed foods. It contains seasonal products, healthy fats and is rich in superfoods.
Diet by Ann Vege
It excludes meat, fish, and seafood. However, it includes fermented dairy products, eggs and legumes. Complex carbohydrates are provided in the form of rye bread, groats and gluten-free products – say goodbye to wheat 🙂. Cow's milk is also excluded from the menus.
When you follow your diet in the Diet & Training by Ann app, you will cut out highly processed foods, GMO products, sparkling and sweetened drinks, junk food, sweets full of simple sugars and trans fats. You will replace them with fresh, seasonal fruits and vegetables, which can be prepared in a variety of interesting ways. 
You will also enjoy the richness of taste thanks to natural spices and herbs. The menus include only healthy fats, such as coconut oil, ghee, and olive oil.
The recipes I offer in the app are based on the Power Triangle: functional food thanks to which you can influence the areas you choose:
the body

– when you want to increase your performance and improve fitness,

the mind

– when you have problems with memory and concentration,

libido

–if you want to improve your sex life.
You decide which areas you want to influence most: you can choose one, two, or all the three options. 🙂
Don't forget that during an active subscription you can change your diet settings an infinite number of times. It's important to listen to the signals your body sends to you and respond to them appropriately!
Finally, let me remind you that each recipe in the app can be freely modified by using the extremely convenient exchange function: it applies to individual dish ingredients, but also to the entire recipes. And it's all for you to have a diet that is based only on the foods you will like! 🙂
I hope that I've managed to convince you that a healthy diet and achieving your goals is really easy … especially when your menu is perfectly custom-made!