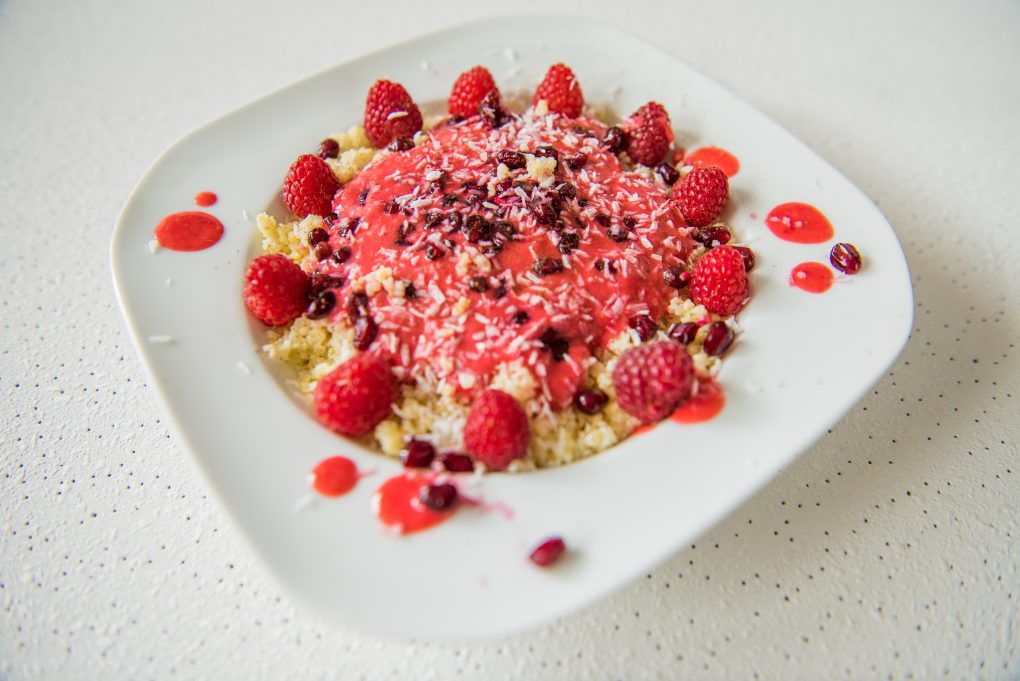 As you probably know, carbohydrates work best when eaten before a workout as a shot of energy. As a result, your training can be longer and more intense, which is especially helpful in endurance sports, like running. I recommend adding products rich in antioxidants to meals for active people, and today pomegranate will play the part.
Pomegranate
Apart from its great health improving benefits and taste, the fruit is especially beneficial for fitness enthusiasts, bodybuilders, crossfit athletes, footballers, runners, athletes, karate fighters and all endurance athletes. What is more,
it positively affects the cardiovascular system

it prevents arterial hypertension

it protects against atherosclerosis

it helps with diseases of the digestive system

it strengthens the immune system

it helps with ketoacidosis

it contains vitamins C, A and E, zinc and copper = which have a beneficial effect on the condition of our skin

it also has anti-inflammatory and anti-cancer effects

it heals erectile dysfunction
To spice things up a bit, let's add in some raspberries.
Raspberries
They are a source of vitamin C, B vitamins, including folates. They also have provitamin A, vitamin E and K, quercetin, which has antiallergic properties and inhibits the release of histamine, manganese, which favorably affects the energy metabolism of the body and the activity of the nervous system, potassium, magnesium, zinc, and calcium. Lutein protects the eye against the influence of oxidative stress, which often causes other diseases, i.e .: atherosclerosis, stroke, and neurodegenerative diseases (eg Parkinson's disease).
Cinnamon
Research shows that cinnamon consumption reduces inflammation and pain. What other properties does it have?
it is antibacterial and antimycotic
it is a strong antioxidant (prevents aging)

it helps in regulating blood glucose

it helps in weight loss – reduces the absorption of carbohydrates in the small intestine

it improves circulation and wamps up the body

it is a natural preservative – when added to eg jam, it inhibits bacterial growth and food spoilage

it is a great source of manganese

it reduces your sweet cravings
Now that you know all the benefits, let's make the millet porridge.
Preparation:
Mix raspberries with coconut milk. Rinse the groats twice with cold running water and cook in plant milk with coconut sugar and cinnamon. Pour the raspberry mousse over the porridge. Decorate with desiccated coconut, pomegranate seeds and Raspberry Lio Shake.