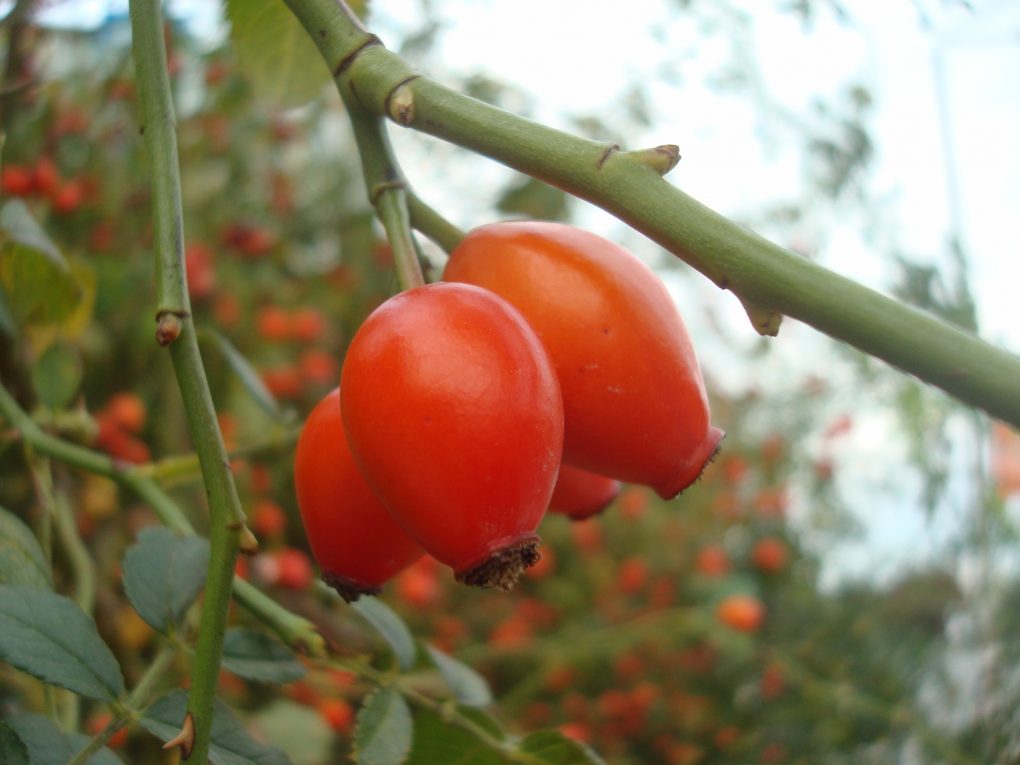 Wild Rose for Your Health and Beauty!
We admire wild rose flowers for their beautiful scent and look. The shrub usually blooms in June and the ripe orange-red fruit is collected from autumn to winter. We often use it in our kitchen for its valuable taste and flavour, and forget about its health benefits. Today I would like to remind you what properties these petals and fruit have.
Nutritional value
Rosehips are are a great source of many vitamins and minerals. They are especially rich in vitamin C. Its content is 10 times higher than in blackcurrant. Three fruits are enough to supply you with the amount your body needs a day. However, it is important to note that the amount of vitamin C in rosehips depends on the time of harvest, drying method, as well as storage time. Long-term storage causes big losses of vitamin C. Rosehips also contain vitamins B1, B2, PP, E, K and carotenoids. They are rich in polyphenols. Rose oil is obtained from rose seeds and it is a good source of unsaturated fatty acids, in particular linoleic and α-linolenic acid. In turn, the minerals found in seeds and in rose oil include, among others, potassium, calcium, phosphorus, magnesium, iron, copper and zinc.
Properties
Rosehips have antioxidant as well as anti-inflammatory, antibacterial, and antiviral properties. For this reason, rosehips and their preparations are often used for recovery, to fight general weakness, fatigue or stress. Strengthening preparations based on the extracts of these fruits are recommended for infectious diseases and illnesses associated with vitamin C deficiency. Rose fruit extracts also have a slight cholagogue and diuretic effect. When it comes to rose oil, it stimulates our appetite.
Possible uses in cooking
Rose hips have a high nutritional and health value. I also recommend them because of their excellent flavor. Both fruit and rose petals are edible. I mainly use them to make juice, nectars, syrups, preserves and jams. I drink rosehip tea just as often as I use rose jam, as it contains a lot of polyphenolic compounds and therefore has high antioxidant activity. I also make meat sauces from the fruit and add rose petals to salads and cakes. I use them to flavor syrups, vinegar, drinks and sweets. In candy form, they are great for decorating cakes. Rose buds can also be marinated. And, last but not least, you can also make wine from rosehips.
Wild rose in cosmetics
Wild rose is widely used in cosmetology. Rose oil made from petals and seeds is used for aromatherapy and perfumery. It has anti-inflammatory properties, protects, brightens, naturally tones and nourishes tired skin. For this reason, I recommend it especially to people with sensitive and capillary skin as well as those who are exposed to intense sunlight. An important property of rose oil is that it inhibits the aging process and regenerates flaky skin. Rose oil can also be used as a hair care cosmetic.
I hope that having read today's post you will try some home-made rosehip preserves. Remember that wild rose is worth checking out not only for its health benefits, but it also helps you take care of your looks.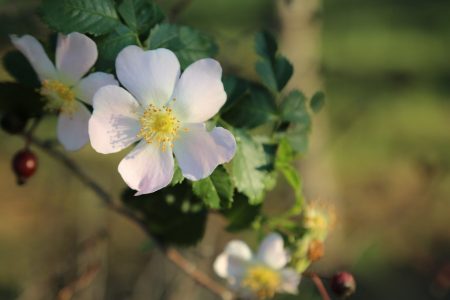 Bibliography:
Cendrowski A., Kalisz S., Mitek M. Właściwości i zastosowanie owoców w przetwórstwie spożywczym. ŻYWNOŚĆ. Nauka. Technologia. Jakość. 2012; 4 (83): 24-31.
Grys A.Dzika Róża ( Rosa canina L.) – chemizm i zastosowanie w lecznictwie.Postępy Fitoterapii. 2009; 4: 245-7.

Kazaz S., Baydar H., Erbas S. Variations in chemical compositions of Rosa damascena Mill. And Rosa canina L. fruits. Czech J Food Sci. 2009;27 (3):178-84.

Lattanzio F., et al. In vivo anti-inflammatory effect of Rosa canina L. extract. J Ethnopharmacol. 2011;137(1):880-5.

Özcan M. Nutrient composition of Rose (Rosa canina L.) seed and oils. J Me. Food. 2002; 5: 137- 40.

Phetcharat L., et al. The effectiveness of a standardized rose hip powder, containing seeds and shells of Rosa canina, on cell longevity, skin wrinkles, moisture, and elasticity. Clin Interv Aging. 2015;10:1849-56.

Živković J., et al. Rosa canina L. – new possibilities for an old medicinal herb. Food Funct. 2015;6(12):3687-92.