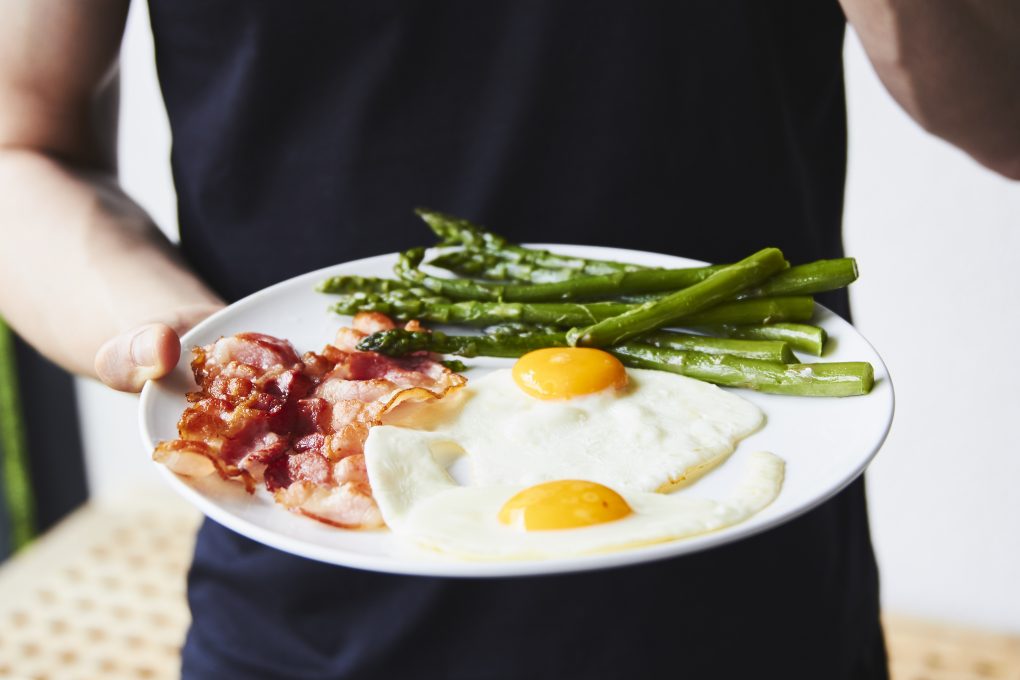 Fat and Protein Breakfast: yes or no?
We can certainly state that breakfast is the most important meal in a day. It has been confirmed in numerous research studies that skipping breakfast may increase the risk of excess weight and obesity and that's why we definitely shouldn't cut out this crucial meal from our diet. 
You have probably noticed that nowadays more and more often I propose fat and protein breakfasts rather than those high in carbohydrates which used to prevail on my blog several years ago. 
Why the change? Due to my intense training, carbohydrates provided me with the essential energy boost which my body needed for the huge physical effort.  I choose fat and protein breakfasts as they fit in with my current lifestyle now. 
Remember that the main rule doesn't change – no diet is perfect for everyone. What's good for me  doesn't necessarily have to be just as good for you. 
I recommend this kind of breakfast especially to those who want to lose weight, those who feel hungry between meals or suffer from insulin resistance.
You will find lots of recipes for fat and protein breakfasts in my blog and  app. You can also use the recipes for dishes with eggs, meat, steak tartare, etc. Go ahead and check them out!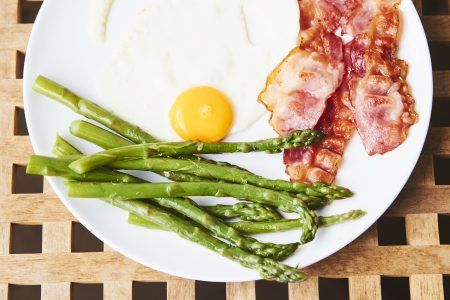 Why is it worth going for fat and protein breakfasts?
I would like to share with you some details about the benefits of choosing such breakfasts:
control over appetite and longer feeling of fullness

smaller hunger

faster weight loss thanks to the increase of the pace of fat burning

no rapid increase in glucose and insulin in the blood after a meal

discovering new culinary inspirations and getting to know other taste combinations

not feeling like snacking between meals.
Does it mean you should cut out carbohydrates?
You definitely shouldn't! They are essential for us but the amount depends on our lifestyle and other factors. What is more, they should certainly be included in our pre- or after- workout meals. 
For athletes preparing for competitions, I also recommend a carbohydrate loading strategy for a day or two before the start. The day before the competition it is good to eat a portion of carbohydrates before bedtime. 
However, you should remember that OBSERVATION of how your body reacts, drawing conclusions and personalizing your diet to individual needs are crucial. In case of doubt and persistent malaise -> do special laboratory tests and consult your doctor. Stay healthy!
Oven baked asparagus with bacon
Below you will find a sample recipe for a fat and protein breakfast.
Ingredients:
10 asparagus spears

a few rashers of bacon

1 tablespoon łyżka

ghee clarified butter

1 teaspoon olive oil

2 eggs

a pinch of salt

a pinch of black pepper
Preparation:
Fry the egg in the ghee butter. Cut the bacon into rashers. Wash the asparagus spears and remove the woody ends. Line the baking tray with baking paper and place the spears there. Sprinkle them with olive oil, season with salt and pepper and bake at 180 ℃ for about 25 minutes.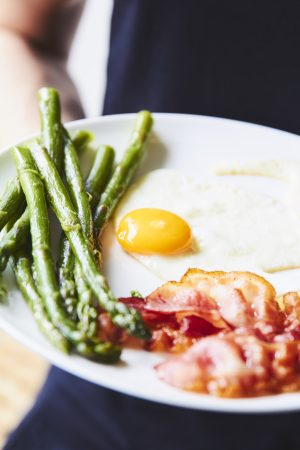 Bibliography:
Leidy HJ, Hoertel HA, Douglas SM, Higgins KA, Shafer RS. A high-protein breakfast prevents body fat gain, through reductions in daily intake and hunger,  in "Breakfast skipping" adolescents. Obesity (Silver Spring). 2015 Sep;23(9):1761-4.

Rabinovitz HR, Boaz M, Ganz T, Jakubowicz D, Matas Z, Madar Z, Wainstein J. Big breakfast rich in protein and fat improves glycemic control in type 2 diabetics. Obesity (Silver Spring). 2014 May;22(5):E46-54.

Rong S, Snetselaar LG, Xu G, Sun Y, Liu B, Wallace RB, Bao W. Association of Skipping Breakfast With Cardiovascular and All-Cause Mortality. J Am Coll Cardiol. 2019 Apr 30;73(16):2025-2032.

Smith-Ryan AE, Hirsch KR, Blue MNM, Mock MG, Trexler ET. High-Fat Breakfast Meal Replacement in Overweight and Obesity: Implications on Body Composition, Metabolic Markers, and Satiety. Nutrients. 2019 Apr 17;11(4). pii: E865.