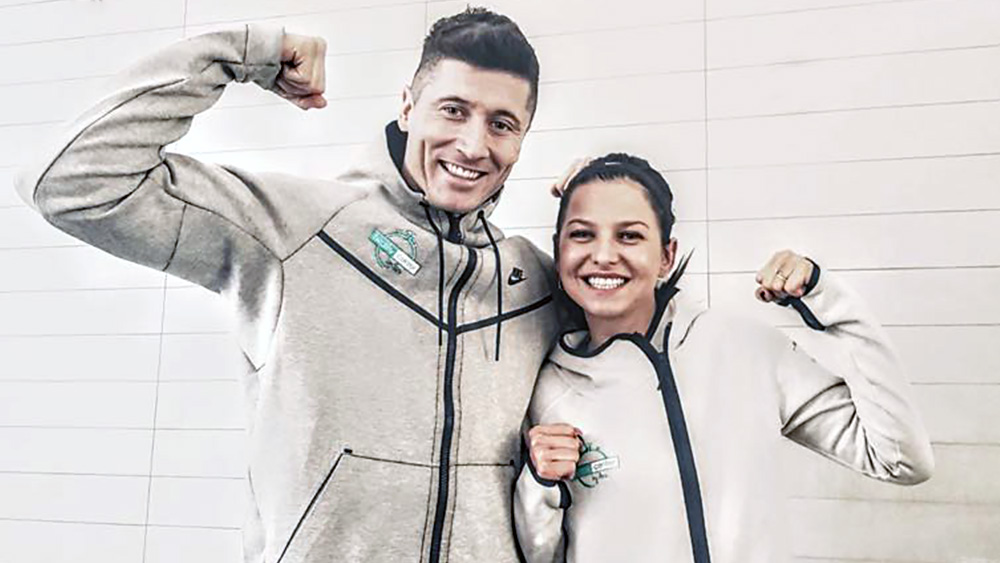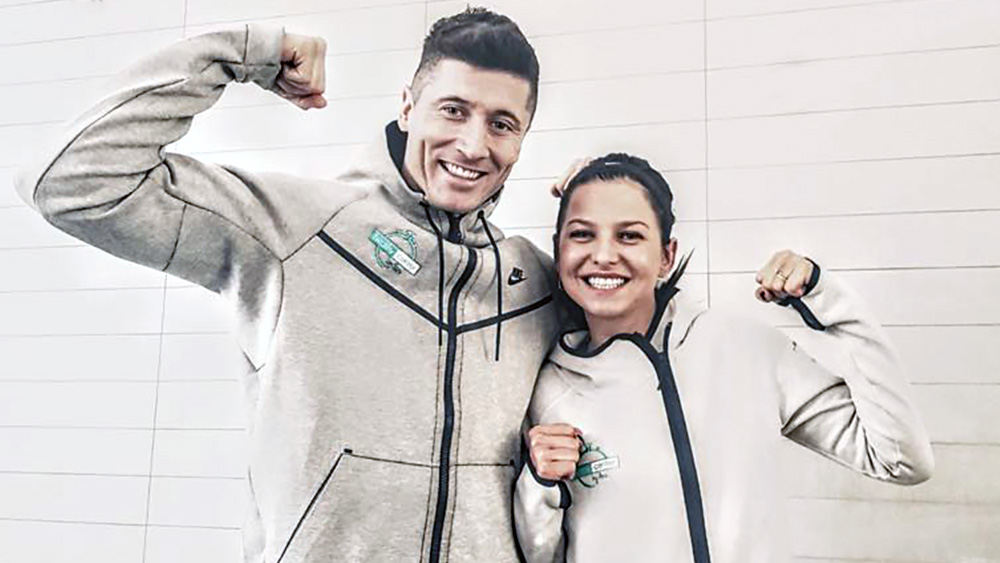 Robert Lewandowski proves that a healthy diet is part of his success plan! It could be yours…
Top-ranked athletes, like my husband Robert, lead an extraordinarily intense life. Therefore, it is no secret that a healthy diet is essential for them. A well-balanced diet has a positive effect on keeping fit, not only on the football pitch. It applies to any form of physical activity.
Knowledge gained over the years, opinions of experts and my own sport experience have let me create diets for athletes – both for beginners, for whom sport is a way to improve well-being, looks and health, and for professionals, including my husband, Robert.
Tried and tested ideas have been used in my Diet & Training by Ann application which has been promoting healthy lifestyle successfully for a few years now ➜ test for free for 7 days ➜ https://healthyplanbyann.com/app
What should you consider while training?
Everyone who likes an active life – be it running, working out at the gym or at home, or doing any other sport – should know that while exercising, our body loses its supplies of glycogen (a carbohydrate found in muscles and liver, which serves as a form of energy storage for the body).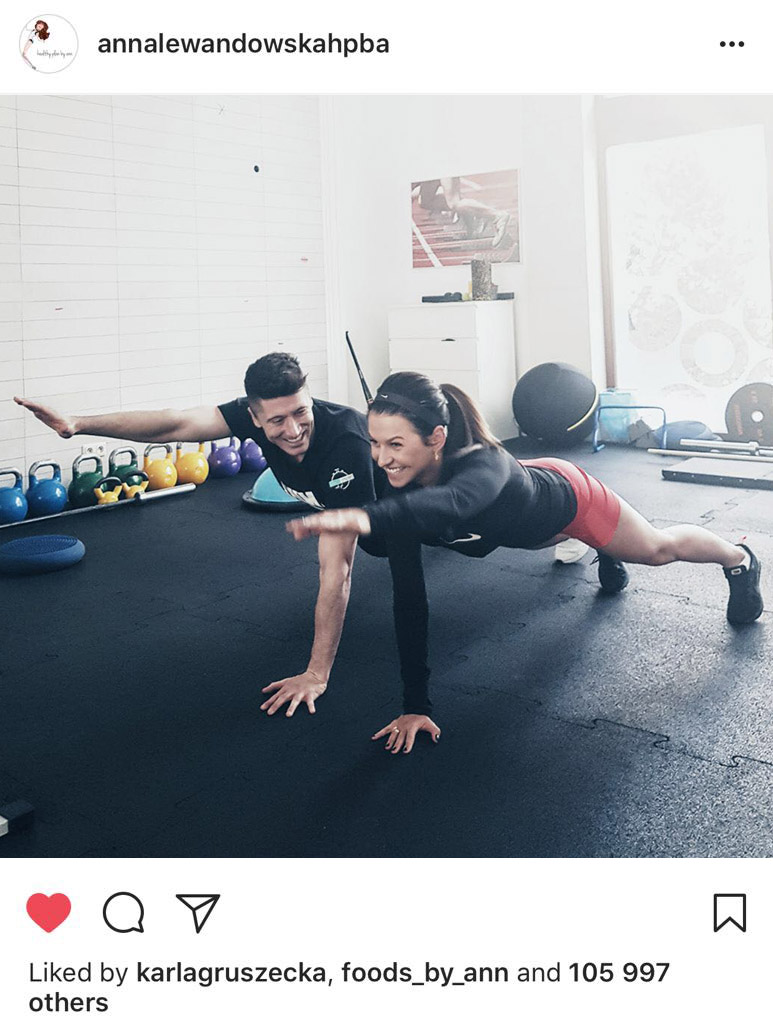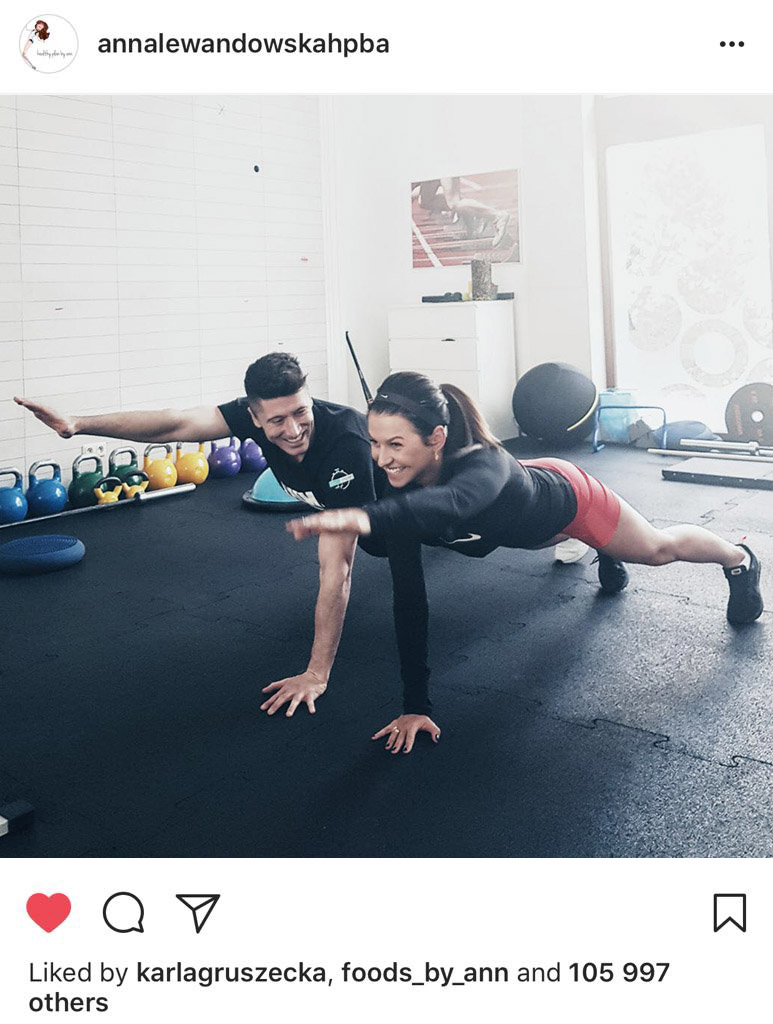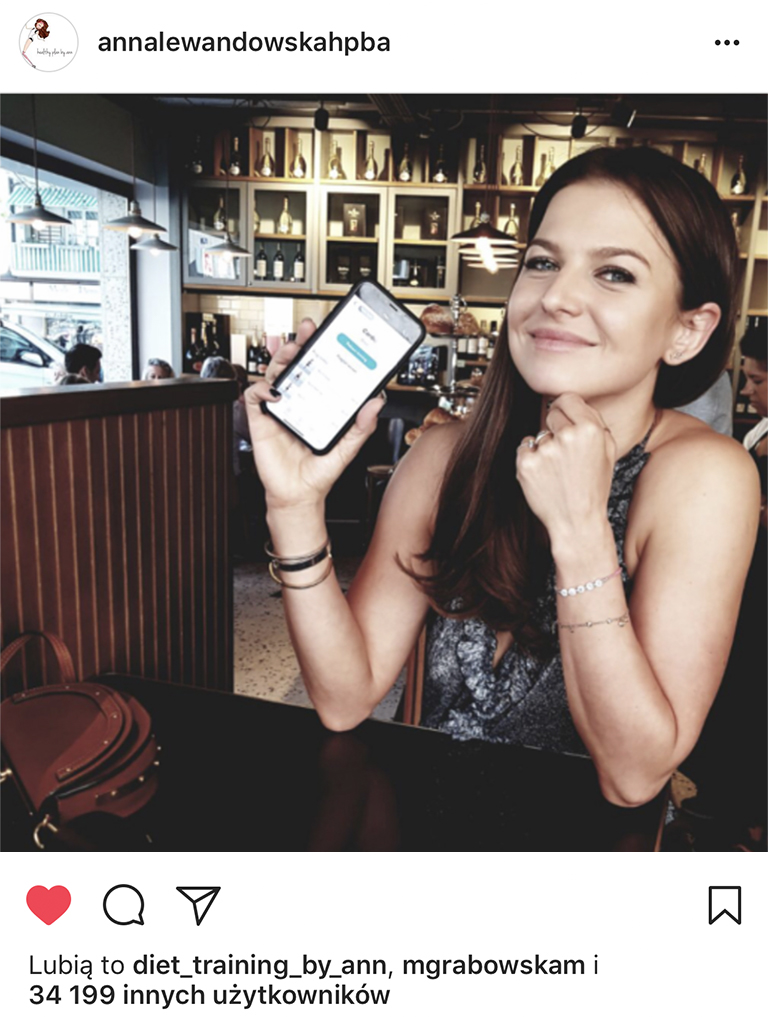 Replenishing glycogen helps:
reduce tiredness

achieve much better results

increase your body's physical efficiency during workout!
On the other hand, a low level of glycogen might result in lower intensity of your workout – we should not let this happen.
How can you achieve this? A good way is to supply your body with carbohydrates on a regular basis, especially in the form of pre- or intra-workout snacks. It is advisable to consume products with a low GI level in order to maintain an optimum blood sugar level. Products with a high GI level are recommended AFTER a workout.
Who am I?
Anna Lewandowska, I am a nutrition specialist and a personal trainer (also a certified TRX and Insanity trainer). But it all started with KARATE – the medals I won in World, Europe and Poland Championships assured me that I do exactly what I love!
I want to enthuse people with positive emotions that can be found in sport and healthy nutrition. That is why I have created my Diet & Training by Ann application. It was spot on! Thousands of people achieve their dream results every day thanks to the app.
And I, as a professional athlete, have seen again that making the effort is worth it.
It takes 9 minutes to score a few goals or… to prepare yummy power balls 😉
Below I present sample meals before, during and after a workout as well as a recipe for a NATURAL ISOTONIC DRINK which works wonders with my husband Robert. Let it be a kind of basis, a starting point to prepare your own meals.
You will find a personalised diet and individually planned workouts in my Diet & Training by Ann application – loads of inspiration for healthy and delicious meals.
PRE-WORKOUT MEALS (about 2-3hrs before)
Porridge with dates
Ingredients:
about 70-100g oat flakes
pinch of sea salt
1 teaspoon cocoa
4 dates
1 teaspoon coconut sugar
1 pear or apple
handful of walnuts
1 tablespoon honey (optional)
2 glasses plant milk (e.g. almond or rice)
Preparation:
Boil oat flakes in plant milk, soak dates for 15 minutes in hot water. Add diced pear/ apple, coconut sugar, seeded dates, nuts and cocoa. Stir all ingredients and add one tablespoon of honey at the end.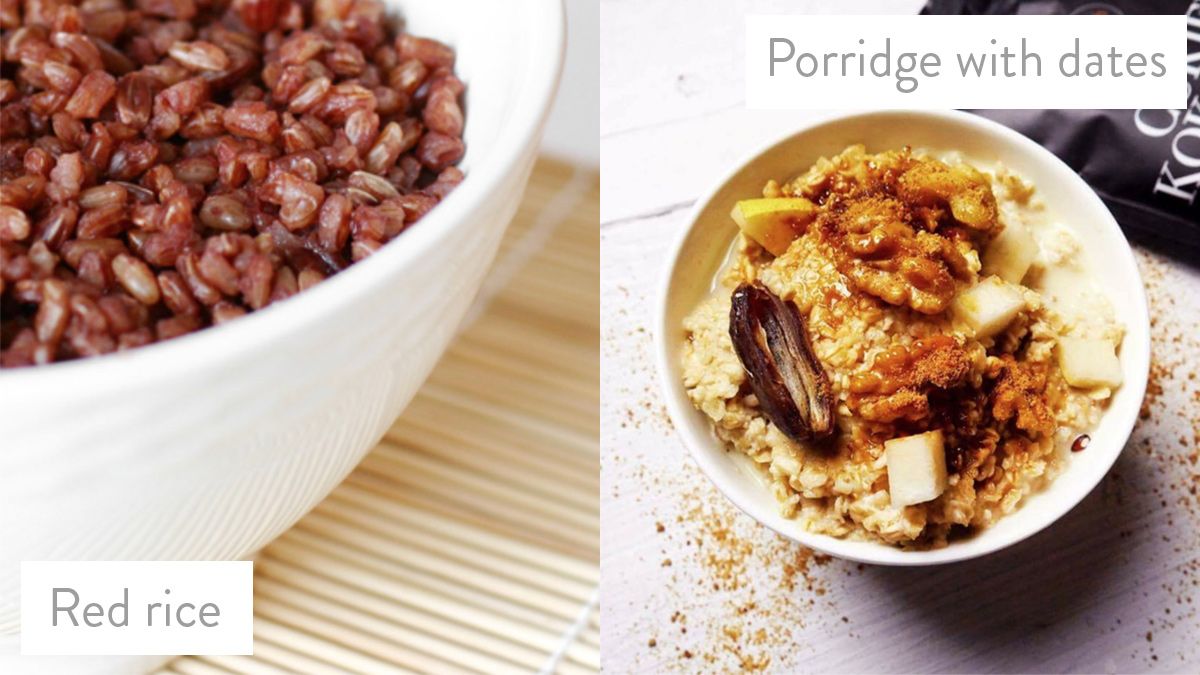 Red rice
Red rice has a lower GI than white rice. Low-GI products have a beneficial effect on the improvement of our body's efficiency. They also keep us feel full longer and keep the right level of glucose in our blood.
Ingredients:
¾ cup red rice
salt, turmeric, thyme
anise (optional)
nigella
a handful of pine nuts
2 teaspoons of clarified butter
mint, coriander, garlic (optional)
Preparation:
I melted butter on a pan, added rice and heated it up. I placed it into a pot, added anise, poured in 1.5 cups of water, added some salt and boiled it with the lid on. I melted some butter on a pan, added the spices and heated it up a bit while stirring. Then I transferred it to the pot with rice. I roasted the nuts, mixed them with the rice. You can also add some finely chopped mint or coriander and a bit of garlic.
Snacks for athletes between workouts
Savoury power bar
Ingredients:
8 pieces of dried tomatoes in oil
⅓ cup flaxseed
1 cup pumpkin seeds
1 cup oat flakes
1 tablespoon curry paste
2 tablespoons maple syrup
pinch of sea salt
pinch of chili
Preparation:
I mixed and then blended all the ingredients thoroughly. Next I transferred the paste onto a baking tray and formed it into a thin layer. I chilled it for about three hours in the fridge and then cut it into bars.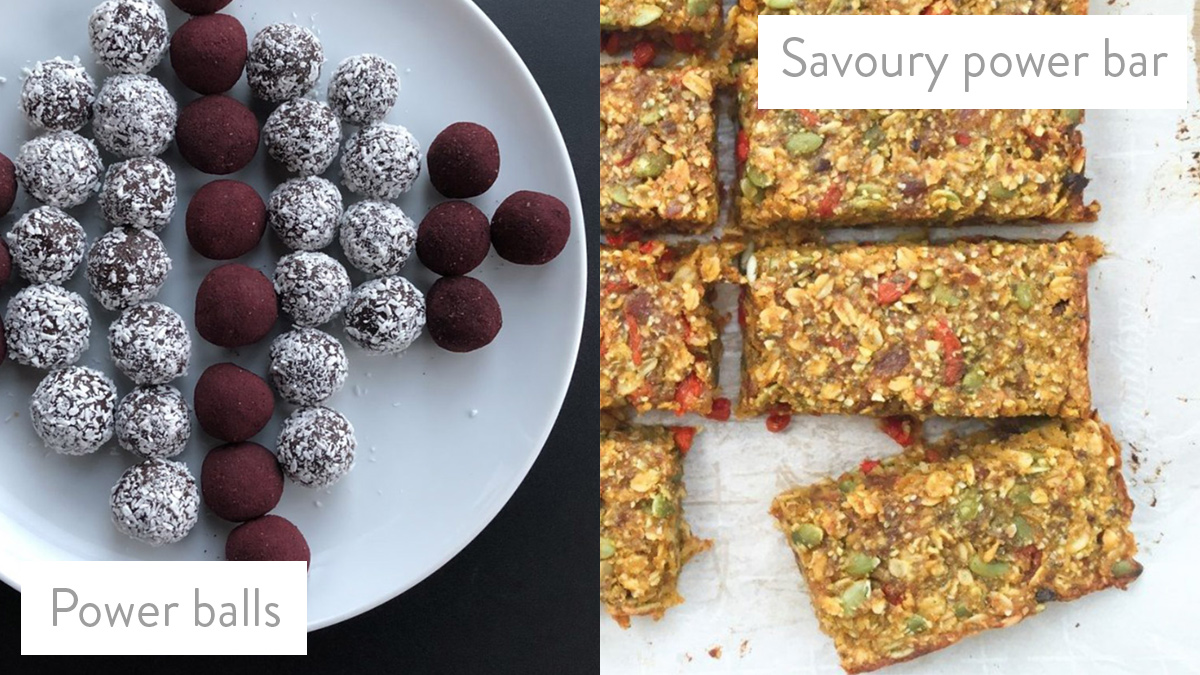 Power balls
Ingredients:
3 tablespoons carob or cocoa
1 tablespoon date syrup
1 cup sunflower or pumpkin seeds
1/2 cup dried and finely chopped apricots or cranberries
1/2 cup dates with stones
desiccated coconut or Lio Shake Raspberry for tossing (optional)
Preparation:
I blanched the dried fruit in boiling water. Then I removed the stones from dates, soaked the fruit in hot water and set aside for a couple of hours. I ground the pumpkin seeds thoroughly. After that I mixed all ingredients until smooth. I formed the balls and tossed them in desiccated coconut and Lio Shake Raspberry, then refrigerated the balls overnight.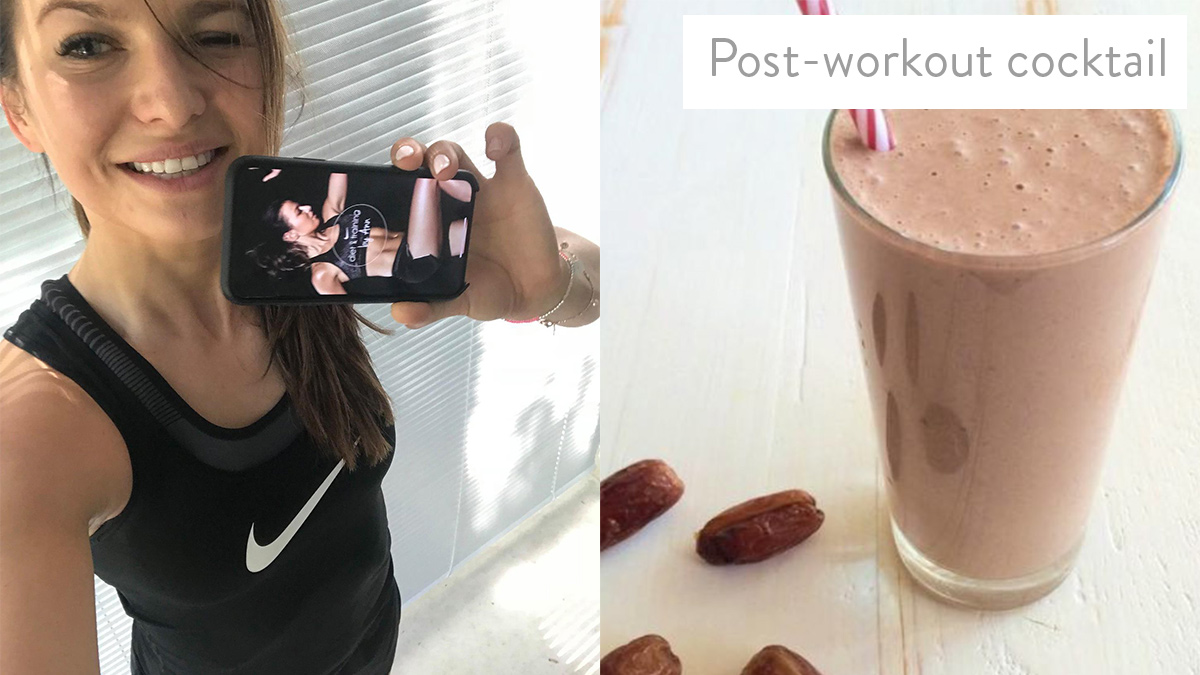 Meals after workout
To tell you the truth, all kinds of cocktails, smoothies and fresh juice are one of my (and Robert's ;)) favourite parts of the diet. They take little time to prepare and you can take them anywhere in a bottle! My head is full of new ideas for tasty cocktails and you will find more recipes for these treats in my Diet & Training by Ann application.
Post-workout cocktail
Ingredients:
½ cup cooked millet groats
1 cup coconut milk (beverage)
3 dates
30 g plant protein
Preparation:
Mix all the ingredients.
Raspberry-watermelon cocktail:
Ingredients:
1 cup raspberries
1 cup watermelon
200 ml coconut water
lime juice
2 tablespoons Lio Shake Beet
2 dates
Preparation:
Mix or blend all the ingredients.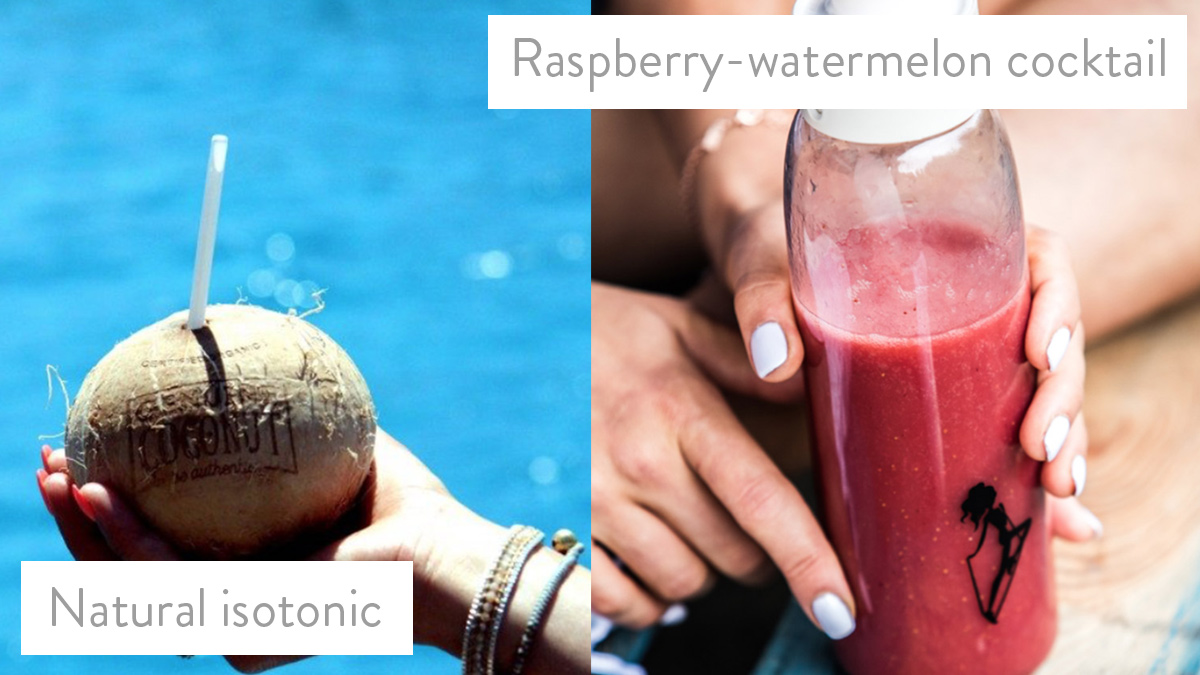 Natural isotonic
Isotonic drinks are used to make up for the vitamins, electrolytes and water lost during a workout. This helps to protect players from health risks and also improves effort parameters and the effects of training, regardless of the character and type of sport discipline practised. Shop shelves are full of all kinds of drinks dedicated for athletes. When there is too much to choose from it may become a problem as are vague answers which is the best. Luckily, I can help you prepare your own isotonic, whuch ensures the drink has no artificial additives. Below you will find a recipe for a natural isotonic. The drink should be sipped before, during and after a workout, especially if it lasts more than two hours.
Ingredients:
4 tablespoons honey
300 ml coconut water
600 ml water
juice from one lemon or lime
1 teaspoon himalayan salt or sea salt
Preparation:
Mix all the ingredients.
I am sure that my suggestions of meals in Diet & Training by Ann app (available on the App Store and Google Play with 7-days free access) will inspire You to prepare your own dishes!